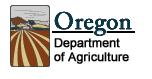 Oregon farmers #1 nationally in having internet access
By Oregon Department of Agriculture
Oregon's reputation as an early adopter of high technology and national leader in its usage is enhanced by the state's farming and ranching community. Results of a new survey confirm that computers are just as important to most Oregon agricultural producers as the tractor or any other common type of equipment.
"Oregon farmers and ranchers are savvy when it comes to technology and have embraced the computer in nearly every aspect of their operation," says Katy Coba, director of the Oregon Department of Agriculture. "We consistently rank high among all states each time these computer surveys are done."
The nationwide survey is conducted every two years by the U.S. Department of Agriculture's National Agricultural Statistics Service (NASS). Oregon is at or near the top in nearly all 2011 survey categories. Oregon leads the nation in the percentage of farm operations with internet access at 80 percent. Oregon is tied for third with Idaho in the percentage of farm operations with access to a computer (83 percent) trailing only Utah (85 percent) and Wyoming (84 percent). The numbers are similar in the percentage of farmers owning or leasing a computer. Oregon ranks second at 80 percent, trailing Idaho. In all cases, Oregon is well above the national average.
Other states have made huge strides in the percentage of farmers and ranchers using computers as part of their business activities. Oregon's numbers are up from the 2009 survey but not as dramatically as some other states.
"Oregon is a pretty progressive state and I think we see people using a tool that is advantageous for them on a daily basis," says ODA Information Systems Manager Steve Poland. "The internet and access to it gives them the ability to do their business more efficiently and effectively."
At some point, all states may reach a saturation point when it comes to computer usage. But for now, nearly all are showing improvement in farm computer usage. For Oregon, the 83 percent computer access mark is an increase from 79 percent recorded in 2009. The easiest explanation is that the state continues to make strides in establishing computer accessibility for rural Oregon communities.
At 50 percent, Oregon is tied for fourth in the percentage of farms and ranches using computers for business purposes. New Jersey leads the nation in that category with 57 percent. Oregon is tied for tenth (17 percent) in operators who have purchased agricultural inputs over the internet by computer. New Jersey also leads that category at 39 percent. Oregon is tied for thirteenth (15 percent) in operators who have conducted agricultural marketing activities over the internet by computer with Iowa the national leader at 25 percent. In all three cases, Oregon's percentages are up from the previous survey.
The NASS survey also indicates how farmers access the internet. Nationally, high-speed methods such as DSL, cable, satellite, and wireless have become much more available to the farm sector. Once again, Oregon is generally ahead of the curve when it comes to the primary method of internet access. The percentage of operators using wireless internet service in Oregon is now up to 26 percent- eighth highest among all states. That percentage has more than doubled in the past four years. On the flip side, there is now only 9 percent still using dial-up service compared to 52 percent in 2007 and 26 percent in 2009. DSL (32 percent) is up substantially from two years ago and 17 percent of Oregon farmers and ranchers list satellite as their primary method of internet access. Wireless has clearly become the preferred choice as more farmers take advantage of high speed options.
"Before, many Oregon farmers and ranchers were in remote areas of the state where they could not get any type of connection to the internet," says Poland. "The best connection they had was dial-up. Now, wireless connections can give them respectable speeds and dial-ups are becoming a thing of the past."
The NASS survey does not address it, but Poland speculates that Oregon agriculture, in some cases, has actually outgrown the computer. The rise of the personal digital assistant (PDA) allows many farmers and ranchers to have portability while maintaining access to the internet. In the palm of their hand, operators can use PDAs to combine cell phones, web browsers, and portable media players as they go about their daily business.
"We are seeing people getting away from using a laptop to using an iPad or some type of tablet device," says Poland. "Some farmers and ranchers are using smart phones with everything in them- internet access, voice communication, a camera- all in one piece of equipment. It's all in the applications. It's like having a small, portable desktop computer that can perform most of the functions needed in today's high tech world, and more."
It's possible that operators responding to the survey are not drawing a distinction between computers and the hand held devices. Nonetheless, Poland believes Oregon agriculture's percentages in many categories may be even higher than reported.
Another area not touched by the survey is the growing use of social media. Poland has no doubt that farmers and ranchers in Oregon are increasingly taking advantage of the two-way communication capability of such tools as Facebook and Twitter.
The Oregon Department of Agriculture, very aware of the substantial amount of computer use in the state, continues to improve its high tech delivery of services. In addition to ODA's website, the agency is also hoping someday to provide online transactions for such things as license renewals and payments.
In nearly all categories found in the survey, the west region once again outpaces the rest of the country when it comes to computer usage. Oregon is doing its fair share to contribute to the region's success.
NASS Farm Computer Usage and Ownership survey report
For more information, contact Bruce Pokarney at (503) 986-4559.