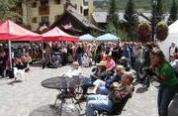 USDA: Farmers Markets Growing in Number, Popularity
111 farmers markets currently operate in Oregon
By Oregon Small Business Association
The number of farmers markets selling fresh, locally and regionally grown produce grew significantly over the past year. According to the 2011 National Farmers Market Directory recently released by the U.S. Department of Agriculture, more than a thousand new farmers markets were added this year, bringing the total reported number to 7,175—a 15 percent increase from 2010.
Well established in far West and Northeast states, farmers markets are rapidly catching on in popularity in other parts of the country. The biggest growth occurred in states as diverse as Alaska, Texas, Indiana, South Dakota, and Colorado. California currently has the most farmers markets at 729. According to the Oregon Farmers' Markets Association, there are currently 111 farmers markets operating across Oregon—well behind North Carolina, which has 217 to round out the top 10 list of states with the most farmers markets.
The directory was released in advance of National Farmers Market Week, which runs from August 7-13. Among other things, farmers markets appear to be growing in popularity across socio-economic groups, and an increasing number of markets even accept government food benefits. Consumers interested in researching local farmers markets can access the report directly at http://farmersmarkets.usda.gov.
Click HERE to read more…