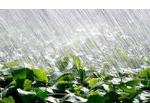 Slow summer puts crops, Oregon farmers at risk
Natural Resource News Note:
Oregon's wetter and cooler than average July may have been enticing to those across the country suffering from record-breaking heat waves, but it's left Oregon farmers bracing for low yields and economic losses come harvest time.
In the Willamette Valley, grass seed farmers may be some of the hardest hit. With more than 1500 farmers, Oregon's lucrative grass seed industry earned nearly $260 million last year, making grass seed one the state's top agricultural commodities.
That success could be harder to achieve in 2011.
The cool, rainy weather in early July has delayed the grass seed harvest, which requires that seeds dry in the fields for up to 10 days after they've been cut from the stalks. One rainy day in July can set the harvest back by five days. Consequently, July's wet weather has pushed grass seed harvesting closer to the rainy season, a scenario that one local farmer says could cost him 20 percent of his crop.
Other agriculture commodities are likely to suffer from poor weather as well. Volatile weather earlier this year compromised regional apple and cherry industries, prompting the U.S. Department of Agriculture to issue a disaster declaration covering eight counties in northeast Oregon and southern Washington. Washington County, Oregon, expects to lose 80 percent of its peaches and cranberries.
Click HERE to read more…