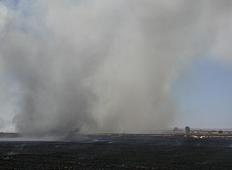 Wildfire Smoke Expected from Portland to Medford
By Dept. of Environmental Quality
Smoke from wildfires in Central and Eastern Oregon is expected to head west this weekend, which could lead to unhealthy air quality throughout the I-5 corridor; DEQ advises residents to take precautions.
The National Weather Service is predicting hot eastern and southern winds this weekend, which could send smoke from Central Oregon wildfires across the Cascades. Smoke could reach unhealthy levels in Salem, Eugene and the Southern Portland Metro area over the weekend, clearing up by Monday. The smoke could make its way as far south Medford.
Klamath Falls and Lakeview could see smoke from wildfires in South Eastern Oregon causing conditions that are unhealthy for sensitive groups such as those with asthma or other respiratory problems.
The Department of Environmental Quality urges people in these areas to take precautions should smoke reach unhealthy levels.
Smoke levels can rise and fall rapidly, depending on weather factors including wind direction. Should smoke events occur, DEQ and health officials urge local residents to take the following precautions to reduce or eliminate breathing problems or other symptoms from smoke:
· Be aware of smoke concentrations in your area and avoid the places with highest concentrations
· Avoid smoke either by leaving the area or protecting yourself by staying indoors, closing all windows and doors and using a filter in your heating/cooling system that removes very fine particulate matter
· Avoid strenuous outdoor activity
· People suffering from asthma or other respiratory problems should follow their asthma or breathing management plans or contact their health care providers
People in areas affected by the smoke should visit DEQ's Wildfire Air Quality Rating page to check air quality level in their communities: www.deq.state.or.us/aqi/wildfire/index.htm. Green is good, yellow is moderate, orange is unhealthy for sensitive groups, and red is unhealthy for all groups. Visit www.deq.state.or.us/er/docs/localprojects/WildfiresandAQFS070606.pdf, for specific actions people should take at each air quality level.
Visit www.deq.state.or.us/lab/aqm/rt/rtHourlyConc.aspx for DEQ's most up to date hourly air quality data. To see data for a particular community, select it from the "station" menu.
To see the Oregon Department of Forestry's wildfire smoke forecast, visit www.oregon.gov/ODF/FIRE/fire.shtml#Fire_Weather and click on "Wildfire smoke forecast."
East of the Cascades
Earlier this week, smoke from wildfires made its way into communities across Central and Eastern Oregon, creating conditions that ranged from a light but noticeable haze to unhealthy air quality.
The expected change in wind direction could improve air quality in these areas over the weekend.
Here's a brief look at recent and expected air quality east of the Cascades:
Bend: The week started out with smoke creating unhealthy conditions that were unhealthy for everyone for a short time around noon. Air quality returned to good by Wednesday as weather conditions stopped sending smoke into the community.
Burns: Burns saw noticeable smoke through the middle of the week. Air quality at DEQ's monitor in Burns briefly reached levels that were unsafe for sensitive groups, such as people with asthma or other respiratory problems. Air quality was good Thursday and as of the time this news release was published today.
John Day: John Day reported noticeable smoke through Thursday. Smoke briefly reaching levels that were unsafe for sensitive groups around midday Tuesday, and air quality returned to good towards the end of the week.
Klamath Falls: Klamath Falls County health officials reported visible smoke in the city Wednesday and Thursday, but smoke concentrations stayed below unsafe levels during this time. On Thursday, Oregon Department of Forestry reported winds are blowing smoke from wildfires located in southeastern Oregon toward Klamath Falls.
Madras: Madras reported very dense smoke on Sunday with smoke reaching unhealthy levels. Some reprieve from the smoke was evident Monday and Tuesday, but conditions worsened Wednesday and Thursday with pollution levels becoming unhealthy for sensitive groups. Air quality was good at the time this news release was published today.
Lakeview: Smoke from the fires in Southeast Oregon arrived in Lakeview early Wednesday and Thursday mornings, causing noticeably hazy conditions. Air quality briefly reached a level unsafe for sensitive groups around 1 a.m. Thursday, but smoke concentrations otherwise remained below unsafe levels.
Prineville: Smoke caused air quality in Prineville that was unhealthy for sensitive groups from late Monday into Tuesday afternoon and for brief periods Wednesday and Thursday. Air quality was good as of the time this news release was published.
Sisters: Air quality in Sisters has been mostly good with smoky periods that were unhealthy for sensitive groups throughout the week, including Wednesday night and early Thursday. Air quality so far today has been good.
For more information about local conditions:
· Contact the nearest regional or local public health agency for the latest in health conditions from smoke.
· Tune to local radio and TV stations and the Weather Channel in affected areas that may include the very latest fire information in news programming and weather reports. Obtain a dedicated NOAA Weather Radio receiver which will alert you 24 hours a day to hazards in your area.
· Visit www.deq.state.or.us/aq/burning/wildfires/visibility.htm on how to use visibility to measure health effects.
For more information on the fires, visit:
· Oregon Department of Forestry's wildfire blog: wildfireoregondeptofforestry.blogspot.com/
Northwest Interagency Coordination Center's fire map: www.nwccweb.us/information/firemap.aspx