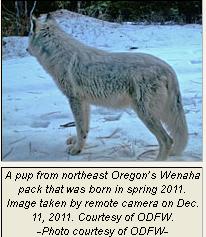 By Oregon Department of Fish and Wildlife
LA GRANDE, Ore.—Photos captured on an ODFW remote camera in northeast Oregon show the Wenaha wolf pack had at least one pup this year.
The photos were taken on forested land in western Wallowa County as part of ODFW monitoring efforts for the Wenaha pack. They are the first indication that the pack's alpha pair reproduced in 2011.
The finding means that all four wolf packs in Oregon reproduced this year. The Imnaha, Wenaha and Snake River packs all had at least one pup. The new Walla Walla pack produced at least three pups.
While any reproduction is good news for wolf conservation, only one pack, the Walla Walla, will likely be determined to be a "breeding pair" for 2011, or a wolf pack that has produced at least two pups that survive through the end of the year. Breeding pairs are an important measure of wolf conservation for wildlife managers.
The Wenaha pack was determined to be a breeding pair in 2010. It is also believed to be the first pack to reproduce in Oregon since wolves were extirpated back in the 1940s, when a July 2008 howling survey found evidence of pups.
ODFW's efforts to find additional pups for the Wenaha and other packs will continue so the department can get a complete year-end count of all pups born in 2011.
More information on wolves in Oregon.