By Rick Sohn
Umpqua Coquille LLC
Weaker log and stud prices are seasonally expected, while homebuilding statistics increased, unsold inventory dropped, and mortgage rates continued near record lows. See below for details and a six-year span of prices and analysis of lumber, logs, housing, and mortgage statistics.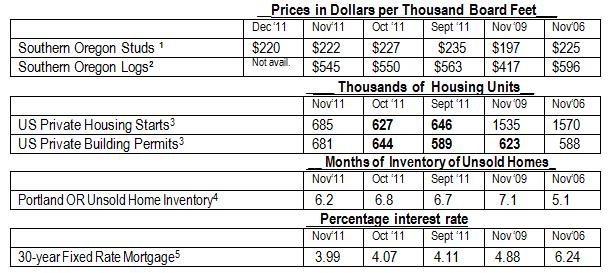 Information and interpretation.
As reported in the News Review, Roseburg Oregon, Swanson Group has gone from operating 6 mills with 1200 employees in 2007, to 4 mills with 700 employees in 2011. CEO Steve Swanson provided the information while explaining competition from Canadians who under-grade logs so that products produced from them escape an export duty when sold into the US. Swanson Group's layoffs are taking place as normally competitive operations look for ways to balance supply and demand, in an environment exacerbated by both the weak domestic market and over-supply from Canada. One of Swanson's 2 mills is shuttered (former Glide Lumber) and the other. Located at Noti, was sold to Seneca Sawmill Co. of Eugene, and operates at a reduced rate.
This month, Lumber and Logs are following a typical end-of-year pattern, and are down slightly, due to the decreased demand of the season.
Fundamentals continue to slowly improve. Housing starts are up. Builder's prices, combined with the low mortgage interest rates, are finally pushing housing starts and building permits up about 10% over last month's seasonally adjusted rate. Some people simply have more urge to build than to buy the attractively prices homes on the market.
There are other good signs for our domestic economy, such as a stronger shopping season, and slightly improved employment picture. There is optimism, despite serious challenges beyond our control, particularly in Europe.
Merry Christmas and Happy New Year to All. Lets hope for more improvement in 2012.
Data reports used with permission of:
1) Random Lengths. 2"x4"x8' precision end trimmed hem-fir studs from southern Oregon mills. Price reported is Dollars per Thousand Board Feet for the most recent week. One "board foot" of product measures 12 inches by 12 inches by one inch thick.
2) RISI, Log Lines. Douglas-fir #2 Sawmill Log Average Region 5 price. Current report is for the prior month. Dollars per Thousand Board Feet of logs are reported using standardized log measurements from the "Scribner log table."
3) Dept. of Commerce, US Census Bureau. New Residential Housing Starts and New Residential Construction Permits, seasonally adjusted, annual rate. Current report is for the prior month. Recent reports are often revised in bold. Also, major revision made each May, reaching 21/2 yrs back.
4) Regional Multiple Listing Service RMLSTM data, courtesy of Janet Johnston, Prudential Real Estate Professionals Broker, Roseburg, OR. Inventory of Unsold Homes (Ratio of Active Listings to Closed Sales) in Portland Oregon, for most recent month available.
5) Freddie Mac. Primary Mortgage Market Survey. 30-year Fixed Rate Mortgages Since 1971, national averages. Updated weekly, current report is for the prior full month.
Issue #4-12. © Copyright Rick Sohn, Umpqua Coquille LLC. For permission to reprint for nominal fee, Email [email protected]