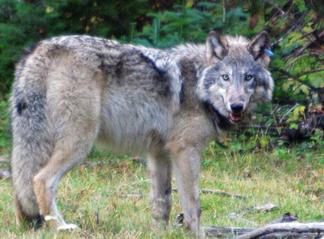 Wolf OR7 crossed back into Oregon March 1
BY Oregon Department of Fish & Wildlife
(NRR Note: Photo of Wolf OR-10 by ODFW)
SALEM, Ore.—Wolf OR7 was located in Oregon for the first time since late December at noon yesterday, March 1. As of midnight last night, OR7 was in Jackson County, Oregon.
OR7 had been in northern Siskiyou County, California, less than 10 miles from the Oregon-California border, for the past 12 days. While OR7 crossed a state boundary yesterday, his movement was small (about 30 miles).
"While wolves crossing state boundaries may be significant for people, wolves and other wildlife don't pay attention to state borders," said Russ Morgan, ODFW wolf coordinator. "It's possible OR7 will cross back into California and be using areas in both states. ODFW will continue to monitor his location and coordinate with U.S. Fish and Wildlife Service and California Fish and Game."
While OR7 is west of Highways 395-78-95 in Oregon, he remains protected by both the federal and state Endangered Species Acts.
OR7 left the Imnaha pack in September 2011 and went through Baker, Grant, Lake, Crook, Harney, Deschutes, Klamath and Jackson counties before entering California Dec. 28, 2011. While in California, he travelled through eastern Siskiyou County, northeastern Shasta County and then resided in Lassen County for a few weeks. On Feb. 11 he re-entered Shasta County and then, about a week later, he crossed north into Siskiyou County. California Fish and Game has been updating his status on the website www.dfg.ca.gov/wolf/
For more information on wolves in Oregon visit http://www.dfw.state.or.us/wolves/