By Rick Sohn,
Umpqua Coquille LLC,
All indicators are moving in a positive direction this month, including the seemingly negative unsold inventory. The four-year trends of lumber, logs, housing, and mortgage statistics are shown below.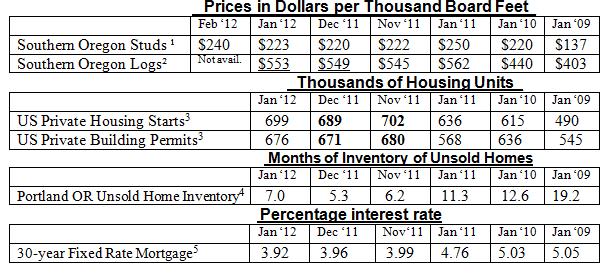 Information and interpretation.
Every statistic shows reason for optimism this month, even unsold inventory.
The best news centers on Housing starts and Building permits. While we have been waiting for housing starts to break 700 in the current month, the Census Bureau revised its statistics, and broke 700 for us, for the month of November 2011. Last month, the November Housing starts reported was 685. Both Starts and Permits made little hops (small jumps) this month. Continuation of this gradual trend is key. There have been several reports lately of optimism and "buy" recommendations for stock in publicly traded homebuilding companies.
Unsold inventory in Portland now waits an additional 1.7 months to liquidate, still an improvement over the last 5 years. According to RMLS, closed sales are up and new listings are down, combining to make the smallest December to January gain in unsold inventory in 5 years.
While lumber prices are up, so are log prices, so mills themselves are nearly flat. The 30-year fixed rate mortgages continue to fall. 3.75% rates were not hard to find in late January, and February should show further gradual drop.
On Feb 28, 2012, USA Today reported healthy signs in the Phoenix housing market. According to USA Today, prices there had fallen 57% from their highs. Home sales are up 8% year over year, and unsold inventory is above its 10-year average – still at 20 months — much higher than Portland's 7 months. Phoenix is the one city in the 20-city Case-Schiller home price index to report a rise in home values from October to November. In January, 25% of homes were bought by investors, turning them into rentals. But all is not rosy, with half of Arizona home mortgages underwater at the end of September, compared with 20% nationwide. Last year, Phoenix had the 6th highest foreclosure rate of metropolitan areas. In total, this is still a rosy picture, Phoenix, southern California, Las Vegas and other southwest cities, are key markets, especially for Oregon wood products.
Data reports used with permission of:
1) Random Lengths. 2"x4"x8' precision end trimmed hem-fir studs from southern Oregon mills. Price reported is Dollars per Thousand Board Feet for the most recent week. One "board foot" of product measures 12 inches by 12 inches by one inch thick.
2) RISI, Log Lines. Douglas-fir #2 Sawmill Log Average Region 5 price. Current report is for the prior month. Dollars per Thousand Board Feet of logs are reported using standardized log measurements from the "Scribner log table."
3) Dept. of Commerce, US Census Bureau. New Residential Housing Starts and New Residential Construction Permits, seasonally adjusted, annual rate. Current report is for the prior month. Recent reports are often revised in bold. Also, major revision made each May, reaching 21/2 yrs back.
4) Regional Multiple Listing Service RMLSTM data, courtesy of Janet Johnston, Prudential Real Estate Professionals Broker, Roseburg, OR. Inventory of Unsold Homes (Ratio of Active Listings to Closed Sales) in Portland Oregon, for most recent month available.
5) Freddie Mac. Primary Mortgage Market Survey. 30-year Fixed Rate Mortgages Since 1971, national averages. Updated weekly, current report is for the prior full month.
Issue #5-2. © Copyright Rick Sohn, Umpqua Coquille LLC. For permission to reprint for nominal fee, Email [email protected]