Timber Industry Report
By Rick Sohn
Umpqua Coquile  LLC
Spring is here! Studs are up. Unsold Inventory is down, and Housing starts/building permits are at or near their highs. Four-year trends of lumber, logs, housing, and mortgage statistics are shown below.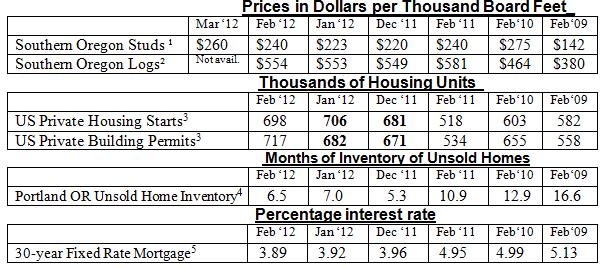 Information and interpretation.
Studs are up $20 since last month, and $40 since January, a welcome spring rally, but not unlike a rally we saw in 2010, when studs ran up from 220 in January, to $280 by March and reached $333 by April.. By June of 2010, Studs were back down to $235, and $205 by July. Nice prices, not sustainable in 2010.
Fortunately for mills, log prices are steady. Both now and 2010, mill operating levels are very low. Small changes in demand should be reflected in the price. Supposedly, fundamentals are better than 2010. Stay tuned a couple more months to see if the rally is sustained better than 2010. Foreclosures and unsold inventories were big factors in 2010. Let's see how this spring develops.
Homebuilding surpassed 700 again, with building permits up to 717 and housing starts corrected to 706 in January. Perhaps February starts will also be corrected to above 700.
Mortgage rates are still very low, but recently the average rate on 30-year fixed rate mortgages rose above 4% for the first time in 5 months. Last week's rate (just one week) jumped to 4.08% from 3.9%, according to Freddie Mac, as reported in the Oregonian.
The lower unsold inventory at 6.5 months is welcome data, and was accompanied by a rise in pending and closed sales, according to RMLS. While new listings are down this year, and others report a strong shadow inventory, the smaller inventory brings home buying and selling into better balance.
Data reports used with permission of:
1) Random Lengths. 2"x4"x8' precision end trimmed hem-fir studs from southern Oregon mills. Price reported is Dollars per Thousand Board Feet for the most recent week. One "board foot" of product measures 12 inches by 12 inches by one inch thick.
2) RISI, Log Lines. Douglas-fir #2 Sawmill Log Average Region 5 price. Current report is for the prior month. Dollars per Thousand Board Feet of logs are reported using standardized log measurements from the "Scribner log table."
3) Dept. of Commerce, US Census Bureau. New Residential Housing Starts and New Residential Construction Permits, seasonally adjusted, annual rate. Current report is for the prior month. Recent reports are often revised in bold. Also, major revision made each May, reaching 21/2 yrs back.
4) Regional Multiple Listing Service RMLSTM data, courtesy of Janet Johnston, Prudential Real Estate Professionals Broker, Roseburg, OR. Inventory of Unsold Homes (Ratio of Active Listings to Closed Sales) in Portland Oregon, for most recent month available.
5) Freddie Mac. Primary Mortgage Market Survey. 30-year Fixed Rate Mortgages Since 1971, national averages. Updated weekly, current report is for the prior full month.
Issue #5-3. © Copyright Rick Sohn, Umpqua Coquille LLC. For permission to reprint for nominal fee, Email [email protected]