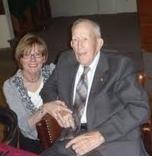 Denny Jones passes at age 101
By Oregonians for Food and Shelter
(photo) Paulette Pyle and Denny Jones at Jones' 100th birthday celebration in September of 2010
Former Oregon State Representative, Denny Jones passed away recently. It was our pleasure to have known him and worked with him for many years. In May of last year, Jones was honored for his service to Oregon at a celebration at the Oregon State Capitol. OFS is proud that we were a part of the planning of that memorable day attended by many of Denny's friends, former colleagues, legislators and lobbyists.
One of the fun stories shared that day was that Senator Ted Ferrioli (R-John Day) had once asked Jones what he did with all of the money he made from ranching. Jones' response was "I spent most of it on whiskey and women, and the rest I just wasted."
Jones was a long-time advocate of ranchers, farmers and foresters. He served in the House of Representatives from 1973 until term limits forced him out in 1999.
Rest in peace dear Denny.
Article about Denny's passing from The Oregonian
Article about Denny's passing from The Argus Observer