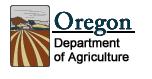 Export figures indicate a recovering grass seed industry resurrected
By Oregon Department of Agriculture
Oregon's grass seed industry suffered greatly with the US economic downturn that began in 2008. But there are increasing signs of recovery that include export numbers generated by the Oregon Department of Agriculture's inspection and certification of grass seed bound for other countries. It appears the high quality of Oregon grass seed is very much in demand in other parts of the world. Having that export market is helping growers and dealers make a strong comeback.
"Specifically for nursery and grass seed- the sectors probably hit the hardest by the economic downturn because of their ties to the construction industry- we are seeing some upward trends in the market," says ODA Director Katy Coba. "With grass seed, we are starting to see the inventories that had built up now being reduced and almost eliminated in some cases. Hopefully, even for these sectors that have really been hit hard, we will continue to see an upturn in 2012."
ODA inspectors examine a variety of field crops, including grass seed, before issuing phytosanitary certificates that assure the commodity is clean of pests and diseases. Without the piece of paper containing ODA's stamp of approval, there is no guarantee the commodity meets the export country's standards. Therefore, the product can't be shipped without the phytosanitary certificate.
Since 2008, the number of certificates for grass seed exports issued by ODA has increased from 1,225 to 2,379 in 2011. The total number of pounds of grass seed okayed for export under those certificates has more than doubled from 61 million pounds in 2008 to 136 million pounds last year. Much of that increase is attributed to new pest and disease requirements imposed by the European Union which have prompted Oregon growers and dealers to need ODA's inspection and certification services to a greater degree. Those services include ODA's two full time seed samplers and a handful of part time employees pulling samples that are then run through the ODA seed laboratory.
"We have a highly qualified staff and a very good lab to evaluate those seeds so when the product arrives in the export country, customers and government officials are very happy," says Jim Cramer, administrator of ODA's Commodity Inspection Division. "It's important to know there is a low incidence of rejection of these seeds. We have been able to help assure the high quality reputation that Oregon grass seed enjoys. But the increased inspection and writing of the phytosanitary certificates has kept our people very busy. Our two full time seed samplers rack up about 3000 miles a month running up and down the Willamette Valley and into different warehouses to pull samples."
A look at the export destination of ODA-certified grass seed shows that Asia remains the top market. More than 45 million pounds of seed to China was okayed last year by ODA. Export figures for China have stayed fairly constant since 2008, the year Beijing hosted the Olympic Games.
"China is still a huge market for us," says Cramer, noting the long history of the industry, ODA, and Oregon State University establishing a strong, pioneering relationship decades ago in China.
Cramer and industry representatives just returned from South Korea, which last year imported about 10 million pounds of ODA-tested and certified grass seed from Oregon- double the amount imported in 2008.
"South Korea plans to reduce the need for importing hay to feed their cattle," says Cramer. "That means they will increase their own forage production. We learned on this trip that the high quality forage seeds Oregon produces will be more in demand in South Korea. That's a positive indicator for the industry's future."
Other export destinations of note this past year include Australia- which has had drought issues affecting its own grass seed production- and South America, which actually recorded a decrease in ODA-certified grass seed exports last year. With its new requirements, the European Union in 2011 imported 42 million pounds, doubling the amount of the previous year.
All in all, ODA's increased seed sampling, inspection, and certification efforts are just another indicator that Oregon's grass seed industry appears to be turning a corner.
"Exports are more important now than ever for Oregon grass seed," says Roger Beyer, executive director of the Oregon Seed Council. "The domestic market declined in 2008, has not yet rebounded to its previous level, and might not ever. Exports have picked up part of that slack and, in 2011, were about 35 percent of the total market for Oregon grown seed. Historically, exports have been about 10 to 15 percent of the market."
Beyer says the industry spent the last three years looking for any market opportunities. The declining value of the dollar and the low price of seed combined to make Oregon seed a very attractive item on the world market. Seed prices are increasing again and the dollar is gaining strength, which could pose a challenge in keeping those export markets. But Beyer says Oregon has an ace in the hole.
"One advantage Oregon has is the high quality seed we produce and the reputation for that quality," says Beyer. "Those factors are attracting new overseas customers today, even without low prices and a weak dollar."
From the grass seed dealers perspective, it also appears the industry sector's fortunes are turning around.
"The grass seed business is certainly healthier today than a few years ago," says John Thyssen of Barenbrug USA and president of the Oregon Seed Trade Association. "A primary reason is a better balance between supply and demand, the best medicine for any market. The supply, in terms of acreage of grass seed, has been reduced since seed prices were low. Domestic business, however, is still weak and may not return to pre-2008 levels. The real estate bubble has a lasting effect on the domestic grass seed markets. Exports in 2011 made the deciding difference this past year, but we should not take it for granted. Many European countries are in recession again, so we don't expect to see the same seed movement this year."
Despite its troubles, Oregon grass seed remains a top ten agricultural commodity and an important part of the Willamette Valley farm economy. Healthy exports ultimately help those counties that produce grass seed.
For more information, contact Jim Cramer at (503) 986-4631 or Bruce Pokarney at (503) 986-4559.