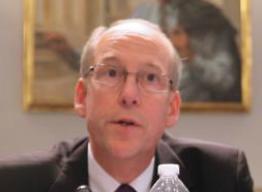 Greg Walden helps pass bill boosting grazing permit certainty for Oregon ranchers
–House gives approval to bipartisan legislation streamlining process for renewing livestock grazing permits
Congressman Greg Walden

The House today approved commonsense legislation that would boost certainty for ranchers dealing with grazing permits on federal land.  The Grazing Improvement Act (H.R. 4234) would not only streamline the process for renewing permits, but also double their duration. Rep. Greg Walden is a cosponsor of the legislation, and helped lead a bipartisan majority to pass the language today.
"As a small business owner since 1986, I know that uncertainty stifles innovation and investment. After years of facing bureaucratic delays and uncertainty, this bill would allow Oregon ranchers to focus on investing in their businesses, creating jobs, and responsibly managing the land," said Rep. Walden.
The Oregon Cattlemen's Association cheered the House passage.
"The Grazing Improvement Act will be a major step toward providing the kind of stability we need here in eastern Oregon," said Bob Skinner, the public lands chair for the Oregon Cattlemen's Association. "Out here where more than half the land is publicly owned, our communities depend on ranchers' ability to stay on the land and continue our tradition of good management and production. We're creating jobs and paying taxes so our kids have a fair shot at an education. This bill takes away that annual uncertainty of whether can turn out each year because of a bloated bureaucratic paperwork process that's entangled in environmental litigation."
If passed by the Senate and signed into law, the grazing legislation would extend the duration of BLM and USFS grazing permits from 10 years to 20 years. To give ranchers greater certainty, it would codify provisions that Congress usually must renew annually to allow continued grazing on allotments while agencies work to complete the permit renewal process. Finally, it would allow federal agencies more flexibility to use categorical exclusions when issuing and renewing grazing permits.
The grazing bill was included as part of the Conservation and Economic Growth Act, a package of 14 bills to remove federal burdens to economic development and job growth in rural America. The bill passed the House on June 19 by a vote of 232-188 and now heads to the Senate for consideration.