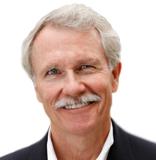 Oregon Governor John Kitzhaber Office,
Governor Kitzhaber announced that Gabriela Goldfarb is joining the Governor's office to serve as a Natural Resources Policy Advisor. "Gabriela joins a strong team in my Natural Resources Office," said Governor Kitzhaber. "Her long experience with salmon recovery and ocean and coastal issues will bring immediate benefits to Oregon's efforts in these areas."
Prior to joining the Governor's office, Ms. Goldfarb worked as an environmental consultant and as Deputy Director of For the Sake of the Salmon. Goldfarb also served as Federal Programs Manager for the California Coastal Commission and as Senior Consultant for a toxics regulatory consulting firm. Ms. Goldfarb will be working on a variety of issues including toxics, air quality and ocean and coastal matters.
"Oregon's reputation as a strong steward of the environment is a key element of our ability to attract and grow our economy," said Goldfarb. "I am honored to join Governor Kitzhaber's team and help steward the resources that sustain the economy, quality of life, and beauty of Oregon."
Ms. Goldfarb started in the Governor's office on June 4, 2012.