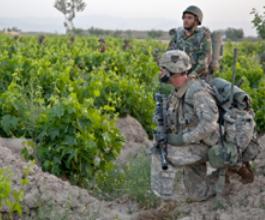 WSU Extension Trains U.S. Troops on Afghanistan's Viticulture
Photo: U.S. Army Spc. Joseph Wilhelm (right), with Headquarters and Headquarters Company, 2nd Battalion, 502nd Infantry Regiment, 101st Airborne Division, patrols a grape vineyard with members of the Afghan National Army during Operation Mountain Cougar, in Char Shaka, Kandahar province, Afghanistan, on April 28, 2011. (U.S. Army photo by Pfc. Justin A. Young)
By Washington State University
U.S. troops preparing for deployment to Afghanistan are learning about that country's grape production and the importance of small-scale farming to its citizens, thanks to a Washington State University Extension viticulturist. Michelle Moyer, a WSU statewide viticulture extension specialist, has developed a presentation for the national eXtension Grape Community of Practice (GCoP) that offers troops a general introduction to vine biology, how grapes are grown, potential threats to grape production, and specifics of Afghan grape production. An organization of 87 grape-production professionals from 31 states and Ontario, Canada, the GCoP will distribute Moyer's presentation to its members at universities and government agencies for their troop training efforts.
"Specific information on Afghan grape production is important for developing cultural and production sensitivity in deploying U.S. troops," Moyer said. "Grapes are the leading horticulture crop for Afghanistan, but their production systems are not like those U.S. citizens would be accustomed to seeing.
"By providing information regarding what our troops might encounter while on the ground in Afghanistan, we can reduce the likelihood of a negative impact on production for this very important crop," she added. "This sensitivity is critical in rebuilding economic and agricultural stability that is necessary for the overall long-term stability of a country…. I would hope that as a result of this type of training, our troops will be able to recognize the importance of small-scale farming in countries like Afghanistan and realize that production systems can differ greatly among different agricultural regions," Moyer said. "But they all still have the same bottom line: to provide food and a livelihood for a country's citizens."
Read the rest of this article on WSU's agricultural news web site »
How Grapevine Virus Diseases Spread
Unlike many other crop species, wine grape cultivars are grown from cuttings taken from source plants to maintain quality characteristics or varietal integrity (trueness-to-type). Thus, distribution of infected vegetative cuttings is the most significant means of spreading viruses and virus-like agents around the world.
Wine grapes are grown on their own roots in eastern Washington, so using cuttings from sources with compromised sanitary status will introduce virus and virus-like diseases into new plantings here. In western Washington, grapevine cultivars are propagated by grafting a cutting (called a scion) onto suitable rootstocks to protect the resulting vine from phylloxera and nematode-borne virus infections and to promote early ripening. In these cases, virus introduction into new plantings can occur if either the rootstock or scion is infected with a virus. If a new vineyard is planted with infected cuttings or grafted with budwood from infected vines, the vines will grow along with the infection and suffer chronic and cumulative losses over the life of the vineyard. In addition, infected vines in a new vineyard can serve as a source of inoculum for secondary spread by resident vectors (either insect or nematode) and infect other vineyards if used as cuttings for new plantings.
Learn more about how you can protect your vineyard from the spread of virus diseases on WSU's viticulture Extension web site »