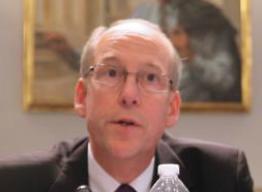 Greg Walden: All levels of government need to be flexible in responding to wildfires
Congressman Greg Walden,
Walden announces that, at his urging, Farm Service Agency will be flexible in locating Conservation Reserve Program lands where ranchers can relocate their cattle for emergency grazing
In the middle of a swing through four counties in Eastern Oregon, Rep. Greg Walden (R-Ore.) offered the following comments:"As Oregon faces the largest wildfires in nearly 150 years–and ranchers, residents, and firefighters are scrambling to save their communities, livestock, and range–I've been in close touch with local, state, and federal officials, as well as citizens and ranchers from the affected areas in Harney and Malheur counties. I've encouraged all levels of government to be flexible and responsive to the needs of communities, families, and businesses.
"At a townhall meeting I held in Ontario, a representative from the BLM briefed the community further on the situation. They told us the moisture levels of the sagebrush and grass fuel in the affected areas is 40-50% of normal for this time of year. They also told us that the recovery time for the affected areas is at least two years. These fires will have a major impact on the economy of southeastern Oregon over the long-term.
"Today we did receive a little bit of good news for the ranchers whose cattle are being impacted by the wildfires. Yesterday I called and asked the USDA Farm Service Agency (FSA) to be flexible in locating private farmlands in nearby counties in the Conservation Reserve Program (CRP) where ranchers can relocate their cattle for emergency grazing. The USDA has just announced that they have done so.
"I'll keep working on encouraging all levels of government to be creative and flexible in finding solutions.
"Public meetings will be held in Jordan Valley tonight and in McDermitt, Nevada, tomorrow. I have a previously-scheduled townhall in Enterprise tonight, but a representative from my office will attend the meeting in Jordan Valley on my behalf.
"Please keep the firefighters and those in the impacted communities in your thoughts and prayers."
Rep. Walden held public events in Malheur, Baker, Union, and Wallowa counties today as part of a previously-scheduled visit.