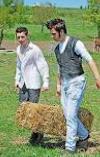 Natural Resource News Note:
Jennifer Rouse wrote an interesting article in the Corvallis Gazette Times on why Oregon younger workers are disappearing from the Ag workforce.
"In Oregon, 60 percent of youths aged 16-19 are neither employed nor looking for work. Sports camps, volunteer work, odd jobs, and other activities fill the summer, where working used to be the norm. There are also some legal restrictions on hiring young people. In order to employ children under 12 to pick berries or other crops, as routinely happened in past generations, farmers must obtain special waivers from the U.S. Secretary of Labor.Children between 12 and 15 can do more but have limitations on the number of hours they can work and the machinery they can operate.

Teens 16 and over can work up to 60 hours a week during harvest, but to go over that — as sometimes happens during peak harvest season — farmers must obtain special emergency permits.All of this means that farmers may not turn to minors if they have a choice of employees.
Read full article here.