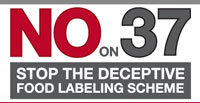 By Cindy
Corn Commentary
National Association of Wheat Growers
A growing number of organizations are coming out against a ballot initiative in California that would require labeling of many products containing genetically-engineered (GE) food.
While those in favor of Proposition 37 include trial lawyers,  those urging Californians to vote No on Prop 37 include nearly 60 agricultural organizations. San Joaquin valley diversified farmer Greg Palla says the initiative would effectively ban the sale of tens of thousands of common grocery products only in California, unless they are relabeled or made with more costly ingredients. "We feel that it's a very deceptive initiative," he said, noting that it has a "whole host of exemptions that fly in the face of common sense."
An example of exemptions that make no sense – cow's milk is exempt but soy milk requires a label. Dairy products, eggs, meat and poultry are all exempt. Fruit juice requires a label, but alcohol made with some of the same GE ingredients is exempt. Food sold in a grocery store requires a label, but the same food sold in a restaurant is exempt.
Palla says Proposition 37 would have a definite impact outside the state of California, since it would apply to retail products made in other locations. "The impact would be swift and clear," he said, noting that other states might follow California's example.
Besides state and national agricultural groups, Prop 37 is being opposed by a broad coalition of community and business organizations, as well as groups representing scientists, doctors, and taxpayers. Find out more at NoProp37.com.
Listen to my interview with Greg Palla here: