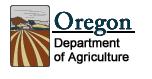 By Oregon Department of Agriculture
Oregon farmers and ranchers enjoyed one of the best bottom lines in recent times last year thanks to a combination of strong agricultural production and good prices for many of the state's crops and livestock. Despite concerns over historically high expenses, Oregon's net farm income in 2011 continues to show recovery from the impact of the recession.
"Overall, it was a great year," says Brent Searle, analyst with the Oregon Department of Agriculture. "Oregon net farm income last year nearly doubled from 2010 and was the highest it has been since 2004. The industry has come out of the trough and many sectors appear to have turned a corner."
A newly released economic snapshot of Oregon agriculture shows net farm income at nearly $1.03 billion in 2011. That's an improvement from the $519 million recorded in 2010 and continues a new trend of improving numbers after years of decline. Oregon's net farm income began a downward slide that ran through 2009 following 2004's record high of $1.14 billion.
Net farm income is essentially a see-saw with production value– which reflects the prices paid to growers for what they produce– on one side, expenses on the other. It is the amount retained by agricultural producers after paying all business-related expenses and is considered an important indicator of the agricultural economy's overall health. Think of it as the farmer's paycheck. Out of that paycheck, growers make payments on land purchases, family living expenses, and family health insurance. Statistics provided by the U.S. Department of Agriculture's Economic Research Service (ERS) show net farm income is cyclical. They also show that the average payout for Oregon farmers and ranchers may not be as high as you would expect from a near record breaking year for net farm income.
"On the whole, we are doing better, and that's the good news," says Searle. "But the income gains are not spread across all producers. The average farmer in Oregon last year earned $27,000, even with an overall net farm income for the state exceeding a billion dollars."
With Oregon's diverse agriculture, some producers did far better than the average while others not so well. Much of that depends on the size of the operation and certainly what they are producing. A look at individual commodities and how they performed last year shows some winners and losers.
"It came together for many commodities last year," says Searle. "There were good yields and good prices."
The overall value of production increased last year. Crop production in 2011 jumped to more than $3.3 billion– an increase of about 23 percent, while the value of Oregon livestock production was more than $1.3 billion– an increase of about 18 percent.
"Beef and dairy had good prices last year, " says Searle. "The value of beef production was up 34 percent and up 28 percent for dairy products. Crops did well too. Wheat set a record high in sales at more than $466 million, which was a 53 percent increase from 2010. Other field crops, such as hay, corn, and barley enjoyed their highest sales in years. Sweet cherries and blueberries have increased their production value tremendously the past couple of years. Again, Oregon 's diversified agriculture has helped overall net farm income."
However, what's good news for some producers is not so good for others. The higher prices received by feed crop growers were paid by livestock owners. The bottom line would have been much rosier for cattle and dairy operators, for instance, had they not been required to pay high prices for feed. In some cases, higher feed prices have led to herd liquidation, which initially depresses market prices, but then causes the prices consumers pay for beef and dairy cattle to rise. As inventories remain tight, prices will stay up in 2012 and 2013.
While net farm income has increased, controlling costs remains a major challenge and keeps income numbers from being even better. Last year's total expenses were a record high for Oregon at $4.3 billion.
"Feed costs were up almost 50 percent for livestock operators, fertilizer costs went up 36 percent, and the cost of petroleum fuels increased 28 percent," says Searle.
While rent and interest expenses were relatively flat– certainly good news for the expense side– labor costs were on the rise once again.
"The cost to pay farm employees– largely because we have so many specialty crops that require hand harvesting– is the single largest expense for Oregon farmers. Last year, it topped $1 billion. In fact, overall labor costs continue to be higher in Oregon than net farm income. In other words, the total paycheck to Oregon's farmworkers was larger than the total paycheck to Oregon's farmers. Both need to grow for ag to remain viable."
The 2011 figures for Oregon's neighbors show that they continue to enjoy an overall much higher net farm income. Washington grew to nearly $3 billion, Idaho increased to $2.4 billion, and agricultural giant California continues to lead the nation in net farm income at $16.3 billion. The national average increased 47 percent in 2011, compared to Oregon's increase of 98 percent. Oregon falls behind its neighbors in the average net farm income per producer. While Oregon's operators have seen an average $3,000 increase in their bottom line since 2007, Washington farmers have gained $30,000 on average, Idaho operators have gained $45,000 per farm, and California operators a whopping $100,000 more per farm in the past five years.
"For a variety of reasons, Oregon agriculture lags in its ability to generate more income as the growth takes place," says Searle. "Some of that is related to water access for irrigation, some to the types of crops and size of farms we have. Oregon has a higher percentage of small farms that generate less than $10,000 a year."
It will be late summer of 2013 before this year's balance sheet is finalized. So far, it appears many commodities are once again doing well even as livestock producer remain challenged by high feed costs.
For more information, contact Brent Searle at (503) 986-4558 or Stephanie Page at (503) 986-4696.