By Idaho Forest Products Commission
Had enough of the fire and smoke this summer? Part of the reason for wildfires burning in Idaho this year is because the state's national forests are overstocked with dead and dying trees, and timber harvest levels are nearly at an all-time low.
In hopes of supporting the U.S. Forest Service's stated interest in accelerating the pace of thinning our national forests to reduce the threat of wildfires and help restore the forest health, the Idaho Forest Products Commission produced a bumper sticker that says "Thin the Threat!"
The bumper stickers are available at no charge from the Idaho Forest Products Commission. Contact the IFPC via email [email protected] or phone 208-334-3292, if you would like to order one.
"Thin the Threat!" bumper stickers also are available through Idaho Department of Lands offices throughout the state.
Wildfires have been burning at high intensity in Idaho for several decades now.  A large percentage of Idaho's forests are at dangerously high risk of severe fire because they are overcrowded with stressed, dying and dead trees, according to forestry experts.
These "at-risk" forests burn more intensely and are more likely to destroy existing wildlife habitat, threaten homes and watersheds, damage soils, and emit large amounts of carbon dioxide and other pollutants, according to forest industry experts. Recent hot and dry weather trends — attributed by scientists to climate change — are exacerbating the problem.
Recent timber harvest levels in Idaho from national forest lands are now at 1946 levels, while state and private land harvest levels have remained about the same.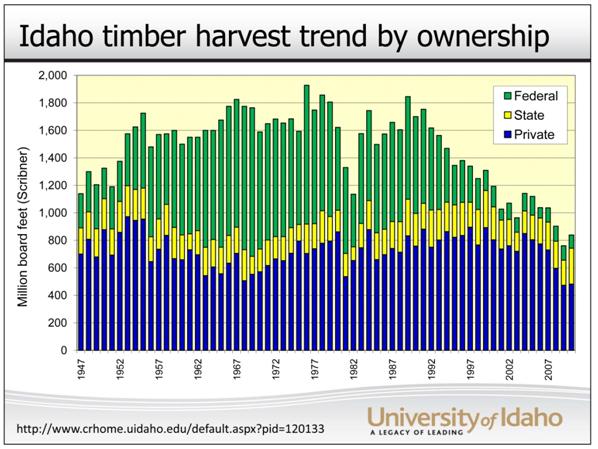 In a recent visit to Boise, U.S. Forest Service Chief Tom Tidwell talked about the need for his agency to accelerate the pace of thinning projects to improve forest health. One statistic that he shared: Out of the 20.4 million acres of land managed by the Forest Service in Idaho, 15 million acres or 75 percent are overgrown and susceptible to wildfire. Tidwell said he would like to either thin those forests or set prescribed burns to reduce the threat.
For national forest lands that are not designated as "wilderness," taking actions to "Thin the Threat!"  are a step in the right direction to protect human safety and ecosystem integrity.
For more information, go to the IFPC web site, http://www.idahoforests.org/and click on "fires."