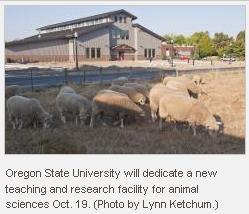 Oregon State University Extension Office
Oregon State University will dedicate a new teaching and research facility for animal sciences Oct. 19 to serve increased student enrollment in the field and to delve into new research.
With more than 500 undergraduates, enrollment in animal and rangeland sciences at OSU is at an all-time high and is nearly four times what it was in the 1990s, said John Killefer, the head of OSU's animal and rangeland sciences department.
"The new facility, built with contributions from generous donors, reflects a greater focus on student learning and opportunities for hands-on teaching with livestock in OSU's living laboratories," Killefer said.
The ribbon-cutting ceremony for the James E. Oldfield Animal Teaching Facility, located at the intersection of Southwest Campus Way and Southwest 35th Street, will start at 3 p.m. The public is invited to attend.
The facility is named for James Edmund Oldfield, an OSU animal nutrition scientist who discovered the role of selenium in eliminating white muscle disease, a degenerative disease of cardiac and skeletal muscles in sheep and other ruminants.
The teaching facility is one of several changes within the animal sciences department that began with its merger with rangeland ecology and management to form OSU's new department of animal and rangeland sciences. The merger is part of a long-range plan to focus OSU's animal sciences teaching and to address budget cuts to the Agricultural Experiment Station, said Larry Curtis, associate dean of OSU's College of Agricultural Sciences.
Groundbreaking will begin this fall for three additional buildings associated with the Oldfield teaching facility, including facilities for metabolism research, agricultural education, and agricultural laboratories support technology, as well as space for the university's data center.
These new investments in student learning are being made as OSU's research farms are being restructured to address a 30 percent reduction in state support for agricultural research, Curtis said.
For example, OSU is upgrading its dairy center and pastures to focus research on dairy management using grass- and forage-fed Jerseys. It has sold its mature milking cows and curtailed milking during construction. Milking will resume in mid-2013.
Other changes include a reduction in the number of ewes at the OSU Sheep Center to better align with teaching and research needs. Activities at the OSU Horse Center will concentrate on the academic areas of equine science and management. Additionally, infrastructure improvements at OSU's beef research ranches will allow a greater opportunity for teaching and increased involvement from stakeholders.
"Reducing the number of animals in our research herds will save overhead costs without eliminating opportunities for teaching and research," Killefer said.
OSU continues to have the greatest variety of livestock research farms of any animal sciences department in the West, Curtis said.
New teaching facilities, restructured research facilities and new incoming faculty are part of the college's long-range planning that is being implemented to provide learning opportunities to students in animal and rangeland sciences, Killefer said.
To address growing enrollment and a new direction in research, the animal and rangeland sciences department is hiring six new tenure-track faculty in the areas of dairy production and management, range/riparian ecology, meat science and muscle biology, forage livestock production, reproductive physiology and the human–animal bond.
"As OSU celebrates the 150th anniversary of legislation that established land-grant institutions across the nation, new facilities and new faculty reinforce our dedication to the land-grant mission," Curtis said.
OSU is Oregon's only land-grant university, making it part of a national higher education system established during Abraham Lincoln's presidency.