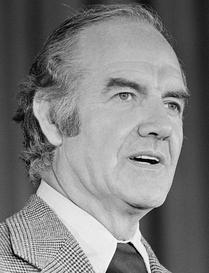 Dan McEvily,
National Farmers Union 
National Farmers Union (NFU) reflected on the illustrious career of former Senator George McGovern of South Dakota, who passed away Oct. 21, 2012.
"From his South Dakota farm roots, to the U.S. Senate, and later as ambassador of the United Nation's Agencies on Food and Agriculture, Senator McGovern spent his life as a tireless champion of agriculture, nutrition and rural America," said NFU President Roger Johnson.
McGovern served as the honorary co-chair of the NFU Foundation and was recognized with NFU's Meritorious Service Award for his humanitarian efforts in 2003.
Before he launched his political career, the South Dakota native was one of World War II's great heroes. As a pilot in Europe, he flew 35 missions and received the Distinguished Service Flying Cross. He later earned a Ph.D. at Northwestern University and returned to South Dakota to be a college history professor.
While in the Senate, McGovern served on the Agriculture, Nutrition, and Forestry Committee. Virtually all major farm legislation during his Senate term bears his mark. He furthered agricultural discussion in his book, Agricultural Thought in the 20th Century.
In 1998, McGovern returned to public service when he was appointed the U.S. Director of the U.N. Agencies on Food and Agriculture—an ambassadorial post in Rome, Italy.
"Although he is gone, the Senator's inspiration and enthusiasm for improving the lives of working people, rural citizens and those in need will carry on for generations to come."