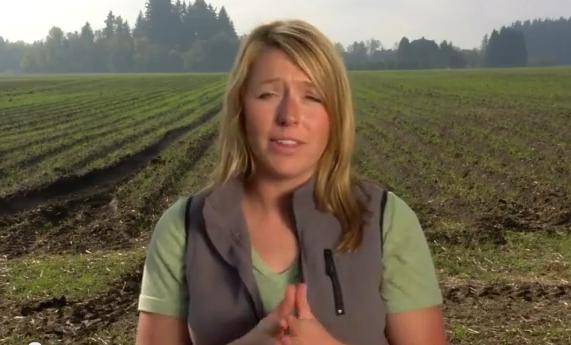 U.S. FARMERS & RANCHERS ALLIANCE NAMES ST. PAUL, ORE., FARMER AMONG NINE FINALISTS
FOR ITS FACES OF FARMING & RANCHING SEARCH
Cast your vote online at www.FoodDialogues.com through Dec. 15 to help select the faces of American agriculture
By US Farmer & Rancher Alliance

Brenda Kirsch, a farmer from St. Paul, Ore., has been named as a national finalist in the U.S. Farmers & Ranchers Alliance (USFRA) "Faces of Farming and Ranching" search. More than 100 applications were received from passionate, dedicated farmers and ranchers from across the nation, and Kirsch was among the nine who were selected as finalists.  The winners will become the face of agriculture, and will be tapped to share stories and experiences on a national stage to help shift conversations about food production and set the record straight about the way we feed our nation.
Brenda's grandfather started Kirsch Family Farms over 60 years ago.  Her father took over in the 1970s and Brenda is now being transitioned to run the 1,000-acre operation.  In the last 30 years, irrigation has been added to three quarters of the farm's ground.  With water and great soil the farm is able to be very diversified and the family raises perennial ryegrass, hazelnuts, straw, wheat, green beans, squash, and crimson clover. These products are sold worldwide through farmer-owned co-ops, and other processors and distributors.
Through Dec. 15, people can visit www.fooddialogues.com to learn more about Kirsch and the other finalists.  Consumers, farmers and ranchers are asked to vote for who they believe best represents those across the country who work to bring food to the table. These votes will be factored into the decision to determine the Faces of Farming and Ranching.
"I hope that people could look to me as a resource to find honest answers about how their food is grown.  I think that bridging that gap is so important in a world where the public is curious about their food, from the farm level," said Kirsch. "I also would hope to be a source for young farmers, to show them that there is a future in agriculture.  And to also show all farmers that it's important to show we are proud of what we do; and we hold our heads high because we truly are feeding the world."
Kirsch is involved in many organizations, including: American Farm Bureau; Oregon Farm Bureau, Young Farmers & Ranchers vice-chair; Marion County Farm Bureau, board member and Young Farmers & Ranchers coordinator; Oregon Seed Grower's League, past board member;  and Chemeketa Community College Agribusiness.
In addition to the public vote, a panel of judges from throughout the food and agriculture community interviewed and evaluated the finalists to help determine the "Faces of Farming and Ranching" winners.  The judging panel included Chef Danny Boome, Willie Vogt of Farm Progress, Lauren Lexton of Authentic Entertainment and Emily Paster, a blogger at West of the Loop.
Winners will be announced in January 2013 and will share their stories on a national stage through potential media interviews, consumer-facing public appearances and events and advertising campaigns.  For their time away from their operation, they will receive a $10,000 stipend as well as a $5,000 donation to their preferred agriculture-related or local charity in their name.
To learn more about USFRA and the "Faces of Farming and Ranching" finalists, visit www.fooddialogues.com.
About The Food Dialogues
USFRA recognizes that Americans have important questions about our food and how it is produced. We have all become invested in knowing more about where our food comes from and how it was grown and raised – and how it impacts our personal health.  USFRA helps farmers and ranchers answer consumers' and influencers' questions, including the tough ones, about food production. For additional information about USFRA and The Food Dialogues: New York, visit www.fooddialogues.com, or on Facebook at www.facebook.com/USFarmersandRanchers.   Follow USFRA on Twitter @USFRA using #FoodD.
About U.S. Farmers & Ranchers Alliance (USFRA)
U.S. Farmers & Ranchers Alliance (USFRA) is a newly formed alliance consisting of a wide range of prominent farmer- and rancher-led organizations and agricultural partners. This marks the first time agricultural groups at the national, regional and state levels have collaborated to lead the dialogue and answer Americans' questions about how we raise our food – while being stewards of the environment, responsibly caring for our animals and maintaining strong businesses and communities.
This press release was wholly or partially funded by one or more Checkoff programs.