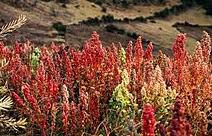 — Quinoa has higher amounts of calcium, iron, fiber and vitamin B than rice, wheat and barley. (Photo by Daniel Robison.)
Researchers from Oregon State University are exploring the potential for quinoa to grow in the Northwest's diverse climates.
Preliminary experiments have shown that some varieties of quinoa, harvested for its tiny grain-like seeds, can be cultivated in Oregon. To expand on those findings, OSU is a partner on a four-year, $1.6 million grant from the U.S. Department of Agriculture.
Growing demand for quinoa worldwide has more than doubled its price in the past decade – possibly creating an economic opportunity for Northwest farmers, according to Steve Petrie, one of the researchers on the project and the director of OSU's Columbia Basin Agricultural Research Center.
"If we can figure out that quinoa can grow well in our environment, I think it has amazing potential for growers," Petrie said.
Few Northwest farmers grow quinoa and little is known about its commercial viability in the United States. Most quinoa sold domestically is imported from South America.
The crop is harvested for its seeds that have a nutlike flavor and fluffy texture when cooked. In addition to high levels of protein, quinoa contains higher amounts of calcium, iron, fiber and vitamin B than similar foods, like rice, wheat and barley.
Quinoa is increasingly used as a starch substitute in place of rice or potatoes. In some recipes, quinoa flour can replace wheat flour, making recipes viable for those with gluten-free diets.
"Hopefully our research can provide a locally-grown alternative food for people who are gluten sensitive," said Stephen Machado, an OSU agronomist in Pendleton. "Quinoa fits that niche market very well."
Starting this spring, researchers will plant quinoa in a range of locations in Oregon, including the Willamette Valley and Columbia Basin. Throughout the summer, Petrie and others will monitor how the crops react to an assortment of soils, weather conditions and levels of irrigation, rainfall and fertilizer.
"There are a lot of unanswered questions," said Petrie, who's also an agronomist with the OSU Extension Service. "Which varieties of quinoa will grow best? What farming practices will result in the highest yields? What are the ideal seeding dates and rates?"
Most of OSU's experiments will grow quinoa in organic conditions, meaning researchers will avoid the use of pesticides and other synthetic inputs.
"When we find quinoa varieties that grow well here we will recommend those to farmers with a package of information detailing the best cultivation practices," said Machado.
OSU will work with researchers from Brigham Young University, Washington State University and Utah State University under the USDA grant.