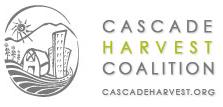 "Seeds of Success" to Help Beginning Farmers in Washington Build Key Assets
by Cascade Harvest Coalition
In an effort to help young and beginning farmers and ranchers in the state of Washington grow their businesses, Slow Money Northwest (SMNW) has teamed up with Cascade Harvest Coalition to create "Seeds of Success," the State's first rural agricultural Individual Development Account (IDA) program. This program will help participants to purchase farm equipment, livestock, and farmland, and connect them to technical assistance, mentorships and a supportive peer community.  
IDA programs have gained popularity as an effective tool for economic development, job creation, and homeownership in urban settings, but Washington is one of ten states to participate in a national effort to adapt this model to the needs of rural communities, and at the same time, help stave off the looming shortage of farmers in America.   "On a national level, we're facing an aging farming population, rising demand for regional food and scarcity of opportunity in rural communities. Over the next ten or fifteen years, most of the farmers in Washington State will retire, and we need to train and empower the next generation."  Tim Crosby, Director of Slow Money NW.
"Beginning farmers need every advantage they can," says Mary Embleton, Director of Cascade Harvest Coalition. " The match dollars help, but the real key is the training and support networks that go along with them."  Participating farmers and ranchers who want to expand their businesses can receive up to $2,500 per year in savings match funds up to a total of $5,000.
SMNW will begin taking applications now, with the launch date set for January 2013. Space is limited and applications are due by December 31, 2012.  For more information and to apply, visit www.slowmoney.org, write to [email protected] or call 206-326-9828.