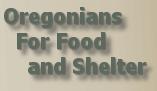 By Oregonians for Food and Shelter
Several bills that are important of OFS members were introduced while the legislature was in town last week.  They are giving us a flavor of what challenges we will be facing this year. Below is a list of issues that we know we will see in 2013 with strong indications that many more will be coming our way.
Amendments to the

Oregon Integrated Pest Management

(IPM) statute
Bans on genetically engineered crops or products
Labeling requirement for products that contain genetically engineered ingredients
Authority for ODA to create control areas for marketing purposes
With all of these issues on our plate, plus the challenges we haven't even seen yet, it will be more important than ever for OFS members to stay engaged. The owners and employees of natural resource businesses in Oregon will need to appear in the Capitol legislative offices and hearing rooms often during the 2013 session.  Personal pleas from those who are directly impacted will empower your natural resource lobbyists that represent you in the Capitol. OFS has faced these issues for the last 31 years, and while it will be challenging, we will do it again in 2013.