Blue Diamond Ending Salem Hazelnut Operation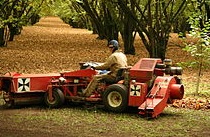 By Natural Resource News Note,
Blue Diamond Growers is discontinuing the hazelnut operation at its packing plant in Salem and will put the plant up for sale. That will leave Oregon with four major hazelnut packers along with some smaller ones. The cooperative has referred hazelnut farmers to another packer who can accept the crop. The company cited lack of growth in volume of in-shell hazelnuts, high price of hazelnuts paid to farmers in recent years and the challenge of adding value with shelled hazelnuts due to the dominance of Turkish exports which determined prices. Blue Diamond will now focus its business on almonds.