Timber Industry Report
By Rick Sohn, PhD
Coquille LLC
A correction in wood products seems to have found a floor, interest rates are trending down, and real estate activity continues at a healthy pace, despite slower starts. Seven-year trend of lumber, logs, housing, and mortgage statistics are shown below.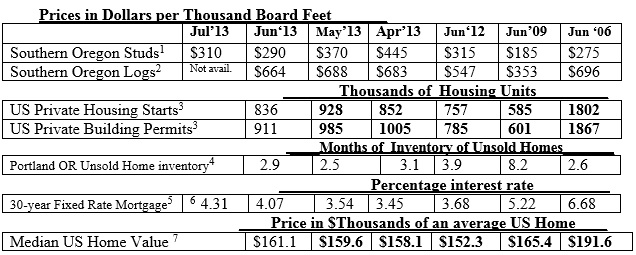 Interpretation
Last month falling lumber and log prices, and rising mortgage interest rates were highlighted. This month, a negative trend in Housing Starts and Building Permits continues and we are now back down to later 2012 levels.
Monthly average mortgage interest rates are still headed up, and July will report 4.37% rate. The most recent week does show a dip to 4.31%.
Wood products prices seem to have found a floor. Not only studs, but according to Random Lengths, Oriented Strand Board prices fell 41% in the second quarter, before finding a floor. This is the sharpest single quarter decline for OSB in the last 17 years, since these records have been kept.
Log prices have not fallen as far, so there is more squeeze on the wood products producers.
This is a year of serious forest fires in the Southern Oregon area. 35,000 acres have burned in Douglas County as of this report. This represents a mix of private industrial timberland and Bureau of Land Management lands, perhaps 10-15,000 acres of private industrial land. A lot of the industrial land is covered with reproduction forests that are not merchantable. These stands will represent a total loss.
To the minor extent that there is merch timber, rapid salvage can be expected from private lands. There is not likely enough merch timber to affect log prices, as substitution from planned logging by industrial producers will occur. The BLM lands, in contrast, are likely dominated by a forest of merchantable timber. Barring the effects of a recent court case supporting logging on BLM O&C lands, salvage logging, is not likely, even though it would be desirable for forest recovery and the economy.
In the meantime, home sales do not seem to have slowed much, and real estate sales statistics remain positive and improving. Unsold inventory in Portland, while up slightly, is still below 3.0%. And, the median US home value continues to increase.
According to Roseburg Prudential Agent Janet Johnston, agents are busy with lots of activity, despite the uptick in interest rates, which are still excellent for most people but might affect the ability of a few buyers to purchase. Some buyers will have to lower their expectations of what they can qualify for. Most activity is still in the $250,000 and under range, although there are now some pending sales in the $600-$800,000 range. Carol Johnson, a G.Stiles Realty agent in Roseburg is also reporting an increase in showings in the above-$600,000 price.
Data reports used with permission of:
1-Random Lengths. Through Sept. 2012, 2"x4"x8' precision end trimmed hem-fir stud grade from Southern Oregon mills. Starting Oct. 2012, consolidated with Kiln Dried Studs, Coast Hem-Fir 2x4x8' PET #2/#2&Btr. Price reported is Dollars per Thousand Board Feet, generally the third week of the month. One "board foot" of product measures 12 inches by 12 inches by one inch thick.
2–RISI, Log Lines. Douglas-fir #2 Sawmill Log, Average Region 3 Southern Oregon price, reported in Dollars per Thousand Board Feet of logs, Scribner Scale. The standardized Scribner Scale includes expected saw trim waste, so a log board foot is much more wood volume than a product board foot.
3– Dept. of Commerce, US Census Bureau. New Residential Housing Starts and New Residential Construction Permits, seasonally adjusted, annual rate. Recent reports are often revised in bold. Also, major revision made each May, reaching 2 1/2 yrs back.
4–Regional Multiple Listing Service RMLSTM data, courtesy of Janet Johnston, Prudential Real Estate Professionals Broker, Roseburg, OR. Inventory of Unsold Homes (Ratio of Active Listings to Closed Sales) in Portland, Oregon, for most recent month available.
5–Freddie Mac. Primary Mortgage Market Survey. 30-year Fixed Rate Mortgages Since 1971, national averages. Updated weekly, current report is for the prior full month.
6–Mortgage-X Most recent weekly rate of 30-year Fixed Rate Mortgages, national average.
7–Zillow.com Median value of homes sold in the United States during the month, weighted according to each area population. The Median removes the effect of outlier expensive homes, with equal numbers of homes above and below the median value each month. Revisions in bold
Issue #6-7. © Copyright Rick Sohn, Umpqua Coquille LLC.
For permission to reprint, please e-mail [email protected]