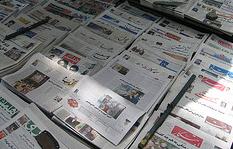 The Medford Mail Tribune made a unique appeal to Oregon's senior Senator Ron Wyden on his role in forest policy.   The Tribune says Wyden is the key to reinvigorating Oregon's timber economy, but Oregon is fast losing its chance.  Read excerpt below.
Mail Tribune 8/9/13
Ron Wyden likes to remind you that he's Oregon's senator. Suggest that his constituency is based in Portland and the Willamette Valley and he'll quickly inform you that he represents the entire state. Now he has a chance to prove it.

Wyden is the key to any hopes of making actual, real, significant change in the litigious stalemate that has largely removed the final word from the phrase "federal timber harvest."

There is a glimmer of hope that some real solution can be developed in the timber harvest stalemate, thanks to legislation moving forward in Congress, both in the House, under the watch of Reps. Greg Walden and Peter DeFazio, and in the Senate, where Wyden holds sway.

Walden, a Republican leader in the House, and DeFazio, the ranking Democrat on the Natural Resources Committee, helped push a timber bill through that committee last week. The bill would place roughly 1.3 million acres of former Oregon and California Railroad lands into a trust that would be managed for timber harvests. The remaining 1.3 million acres would be set aside as conservation areas.

The House bill also would add protections for the Rogue, Chetco and Mollala rivers, establish new wilderness areas and renew federal timber payments to O&C counties, some of which are approaching bankruptcy.

Wyden has his own "framework for legislation," which mirrors portions, but definitely not all, of the House bill. The devil is the details, as always, but there's one big difference in the two plans that could derail the deal: Wyden does not support setting up a land trust that would be managed by the state. That raises questions about whether his legislation would accomplish anything meaningful — if the option remains for timber sales to be routinely stopped by lawsuits, how would anything have changed?

As chairman of the Energy and Natural Resources Committee, Wyden is perfectly placed to make something meaningful happen. The timber issue is hardly the only big ticket item in his basket, but it is the item that means the most to rural Oregonians, who, frankly, have had little to be optimistic about in recent years.