Timber Industry Report
By Rick Sohn PhD.
Umpqua Coquille LLC
Mills are competing for logs and prices are rising. This month is good for homebuyers, including a slight drop in Median Home values and a big drop in interest rates. Seven-year trend of lumber, logs, housing, and mortgage statistics are shown below.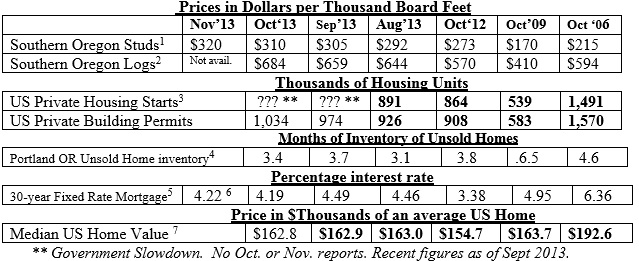 Interpretation
Lumber and logs are both in nice rising price trends. Logs are climbing into a winter price range as mills compete for a limited supply to fill inventory. Economists say we are in a recovering housing market that could last another 3 years anyway. Expect to see continued strength in lumber and logs through the winter and beyond, with seasonal dips.
Building Permits were reported up to a record high level for the year, and as the media likes to say, finally recovering to the 2008 levels. That is NOT saying much. You will hear comparisons to 2008 a lot, since it was such a volatile, falling year. The 2008 high was 1.2 million permits and the low was 554,000. We will have made some real progress when housing and other stats are compared to 2007, or better yet, 2006.
The weekly average for 30-year fixed rate mortgages is bouncing around. It was at 4.57 the week of Sept 13, but dipped as low as 4.10, in the first week of November, and now is at 4.22. It is bouncing around these low levels.
At the same time, the Zillow report shows clearly that median home prices have plateau'ed and have started to dip slightly. The high for this cycle was August's $163,000 national median. This mirrors the data for Portland from the Regional Multiple Listing Service data which also shows a home price drop, and reduced inventory of homes for sale, which fits the season. This is all very favorable for homebuyers.
In speaking with one local producer who sells into the European Clears market, recovery in that market has yet to occur. This coincides with the generally lackluster European economy, which is has worldwide impacts.
For the second month in a row, Housing Starts are not reported, due to the Government Shutdown. Data "Does not meet Production Standards." According to the US Dept of Commerce, the results for September, October and November will be reported on Dec 18 – lets hope for a pleasant surprise.
Data reports used with permission of: 1Random Lengths. Kiln Dried 2×4-8′ PET #2/#2&Btr lumber. 2RISI, Log Lines. Douglas-fir #2 Sawmill Log, Southern Oregon region. 3 US Dept of Commerce. 4Regional Multiple Listing Service RMLSTM courtesy of Janet Johnston, Prudential Real EstateProfessionals, Roseburg, OR. Portland, Oregon data. 5Freddie Mac. National monthly average. 6Mortgage-X, national average, most recent week. 7Zillow.com, National Median Issue #6-11. © Copyright Rick Sohn, Umpqua Coquille LLC. For more informtion or permission to reprint, please e-mail [email protected]