By Rick Sohn, p.H.D
Umpqua Coquille LLC
Near-record-breaking prices are being paid for winter logs, and its only December. Both housing starts and building permits surpassed 1million in the same month! Zillow made an anomalous multi-year upward adjustment in median US home values. Seven-year span of manufacturing, home construction, and housing markets are shown below.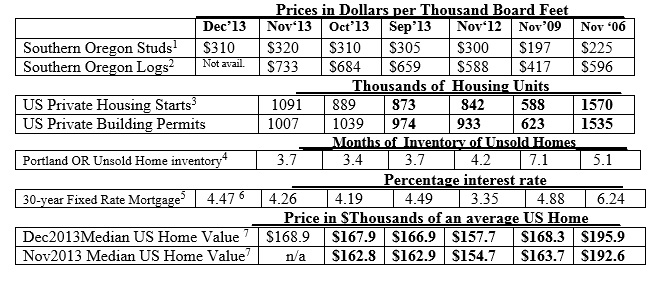 Interpretation
The biggest news this month is log prices. From a low of $617/MBF reported in July, 2013, the average #2 Mill log price in the Southern Oregon/Willamette Valley region has risen to $733/MBF. This is the highest price seen since 2005. Log Lines reports some sellers are receiving as much as $835/MBF, but these are the exception. The $733 price is $25 higher than the February price reached last year, so this year is shaping up as a stronger winter than last year.
This is undoubtedly not good news for mills, if they are short of winter log inventory and need to fill more than just a small gap in log flow. Stud prices have not moved up, so far, so the mills are being squeezed currently.
The numbers for housing starts and building permits are the first we've seen for 3 months, due to the government shutdown. They are now both over 1 million in the same month (first time since June, 2008). The good news is that Random Lengths reports that lumber and solid wood product inventories at the mills are now very low. Therefore, even a slight pickup in demand will cause wood product prices to rise, which will help mills pay for those high-priced logs.
Fixed rate mortgage prices are back on the rise, to near 4.5% in December. The relatively excellent October/November mortgage rates did not last. Unsold home inventories have also risen slightly, but remain in a healthy range.
Zillow home values also rose nicely this month, but this is not the whole story. Two lines — from this month and last month — are both included for comparison.
Zillow home value reports, just underwent a mysterious long term revision, going back at least as far as 2005. No explanation for this modification was found on the website, and if I get a response from Zillow as to why, I will provide it.
This revision has changed the trend of prices from this fall and the timing of the recession trough of home values. The leveling off and slight lowering of Median US home prices previously reported in the Fall, has been replaced with a steady rising trend from $159,100 in January to $168,900 for November.
The lowest national median price had been $148,200 in Oct. 2011. Now the lowest national median price is reported to be $151,800, reached in January, 2012. It's the same trend, but a pretty significant change in timing, 2 years after the fact. This 10-year, month-by-month readjustment by Zillow, without so much as a footnote, is a head-scratcher. Future readjustments or explanations will be reported as they occur.
Overall, this has been a very good month for timber and housing. Product prices should get in line with log prices. 2013 continued the steady, slow recovery, ending on a healthy note. Lets hope 2014 brings further recovery in construction and housing.
Data reports used with permission of: 1Random Lengths. Kiln Dried 2×4-8′ PET #2/#2&Btr lumber. 2RISI, Log Lines. Douglas-fir #2 Sawmill Log Average, Southern Oregon region. 3 US Dept of Commerce. 4Regional Multiple Listing Service, courtesy of Janet Johnston, Prudential Real Estate Professionals, Roseburg, OR. 5Freddie Mac. National monthly average. 6Mortgage-X, national average, most recent week. 7Zillow.com, National Median home value. © Copyright Rick Sohn, Umpqua Coquille LLC. Issue #6-12. For more information or permission to reprint, please e-mail [email protected]