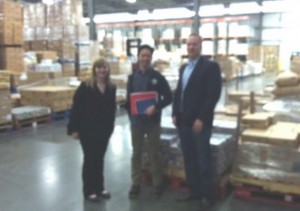 By Oregon Farm Bureau
OFB working with Oregon Food Bank on crop donation tax credit for farmers
Oregon Farm Bureau is working closely with the Oregon Food Bank to draft a bill for the 2014 Oregon Legislative Session to make it possible for more farmers and ranchers to donate fresh fruits, vegetables, and meat to charitable organizations that serve Oregonians in need.
The goal is to reinstate and increase a crop donation tax credit to help offset the cost for farmers who want to help support Oregon's hungry families. Costs involved in a crop donation include labor, harvesting equipment, processing such as crop cleaning, cold storage, and fuel – and can be large enough to prohibit growers from participating. Many farmers make donations at a personal loss. The original state tax credit for donating crops, created in 1977, expired in 2011.
"It's inspiring to see the generosity of so many Farm Bureau members who have incorporated crop donation programs into their family farming operations," said Ian Tolleson, OFB government affairs specialist. "Reinstating a tax credit that helps farmers and ranchers recover some of the costs associated with crop donations will go a long way in helping feed hungry Oregonians, and hopefully will encourage more farmers to participate."
Photo: On Jan. 7, Farm Bureau met with the Oregon Food Bank to work on the bill proposal. From left are OFB intern Brittany Steele, Phillip Kennedy-Wong of Oregon Food Bank, and OFB's Ian Tolleson at the food warehouse in Portland.