Timber Industry Report March 31, 2014
By Rick Sohn, Umpqua Coquille LLC
Strong log prices continue, and relatively stable product prices. Environment for home purchases remains positive, and should for at least a couple of years. Recent lumber manufacturing, home construction, and housing markets are compared to selected years.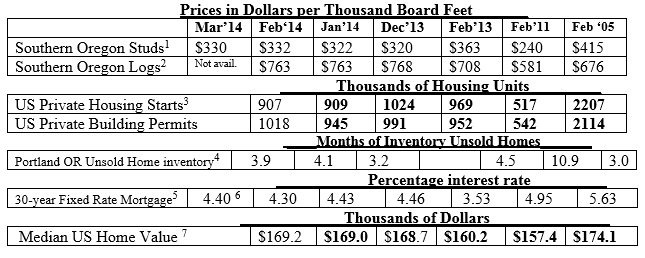 Interpretation
This winter, log prices have been relatively stable which can be typical in the winter, but this year, unusually high. Stud prices are starting out more stable than unusual but relatively strong. The log prices are high enough to squeeze manufacturing somewhat. A look back at 2005 shows a different balance with studs higher, at 415, and logs lower, at 676, a much more favorable balance for the manufacturers.
With the over-2 million housing starts statistics now 8 years into the past, right-sizing has taken place, so that manufacturers could survive with less demand. Businesses have scaled down their operations to adjust to the much lower levels of product demand, with still below One Million housing starts. Oregon mills still have additional capacity, but are operating with reduced shifts and fewer employees as a result. And with fewer shifts operating, fixed costs have had to be trimmed as well.
While recovery since February, 2011, is encouraging as shown above, the recovery is still snail-paced. Economies in rural Oregon, have not really recovered from the Great Recession. Roseburg Oregon is a case in point. Going around Roseburg, one notices an alarming vacancy rate of storefronts, commercial buildings, and malls. While some of this is due to the development of e-commerce, a more robust housing market would be a strong shot in the arm for many local businesses.
What does the future hold? Some economists feel that interest rates will not rise until mid 2015 at the earliest, and the later, the better. Increased interest rates would raise mortgage rates and shut down the still-slow housing recovery. In Europe, projections of deflation, or very low inflation, with sluggish economies, could help prolong the period of low interest rates, which would be favorable here at home.
Lets keep doing rain dances for a continued wet Spring, to help bring us out of drought conditions for the year.
Data reports used with permission of: 1) Random Lengths. Kiln Dried 2×4-8′ PET #2/#2&Btr lumber. 2) RISI, Log Lines. Douglas-fir #2 Sawmill Log Average, Southern Oregon region. 3) US Dept of Commerce. 4Regional Multiple Listing Service, courtesy of Janet Johnston, Prudential Real Estate Professionals, Roseburg, OR. 5) Freddie Mac. National monthly average. 6) Mortgage-X, national average, most recent week. 7) Zillow.com, National Median home value. (http://www.zillow.com/or/) © Copyright Rick Sohn, Umpqua Coquille LLC. Issue #7-3. For more information or permission to reprint, please e-mail [email protected]