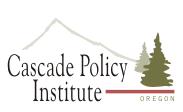 Oregon Cascade Policy Institute
By William Newell
In February, the Oregon Legislature passed House Bill 4126. This bill would allow utilities to purchase renewable energy certificates, or RECs, to meet Oregon's renewable portfolio standards, rather than actually purchasing electricity produced by renewable sources.
The bill is simply "greenwashing." "Greenwashing" is a tactic for companies, in this case large data centers, to burnish their environmental credentials without actually being any "greener."
Many RECs are sold separately from renewable electricity and are meant to give energy producers extra income. While buying RECs allows purchasers to claim the use of renewable electricity, this notion is deeply flawed. The low price of the certificates (one to five dollars) prevents such commodities from realistically encouraging an increase in renewable energy production. RECs alone are not the reason renewable energy is generated or new plants are built. It is simply selling the right to claim that your electricity is renewable. Not only that, but RECs generally support solar and wind energy, which can negatively impact grid reliability, other generation sources, and the environment. Oregon-based Nike backed off from purchasing RECs because of their controversial nature.
The Legislature needs to alter course to avoid costing ratepayers boatloads of money with little actual return. It is time to stop the forced subsidization of energy sources that do more harm than good to our electric grid and our environment.
William Newell is a research associate at Cascade Policy Institute, Oregon's free market public policy research organization. He is a graduate of Willamette University.