Rick Sohn
Umqua Coquille LLC
Timber Industry Report July 31, 2014
Lumber is holding, Log Prices are surprisingly strong, and mortgage rates are dropping slowly. Home value increases are healthy and analyzed below. Statistics from recent years for lumber manufacturing, home construction, and housing markets are compared to 2005.

Interpretation and Looking Ahead.
Lumber prices are more or less holding, which is fortunate, given the continued unremarkable housing starts and building permits. Demand is not showing an upward trajectory from new construction at this time.
Log prices, however, are remarkably strong for summer. At $675 they are at their highest level since 2006, even higher than the number reported last month, which bucks the normal trend of decreasing prices for logs as the summer progresses. The volume of logging in the summer may not have risen as much as past years, due to a continued shortage of logging operations. There is a labor shortage bottleneck for the people with the skill set and desire to work in the woods.
Unsold inventory is holding at a low level, albeit not as low as 2005. Eventually the low inventory will spur gains in new housing starts, but not yet. The mortgage rate is creeping lower, which is very helpful. And, homeowners can gain comfort in a steadily increasing value of their homes, on a nationwide basis.
Focusing on the home price trends, please refer to the following table.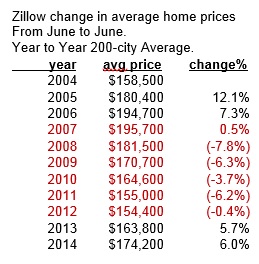 The Oregonian reported on June 30, that home price gains are slowing, according to the Case Schiller Index ("Home Price Gains slowing in the US"). While this may be true, compared to the glory years of early 2000's, it is not any cause for alarm. The article says that home prices over the last year (Case-Schiller) were up 9.3% but this is lower than expected (!) And Portland is up 10.2% from a year ago. The Case Schiller index reports only major cities, including Portland, and with a 3-month lag.
Zillow reports 200 urban areas throughout the country. The recovery is coming to the cities and certain industries, but rural areas are lagging. Therefore even Zillow may even overstate the national rate of home price increase. As reported by Zillow above, the rate of increase is around the 6% annual range, the last 2 years.
Economist Bill Conerly of Lake Oswego is quoted in the Oregonian article as saying that he expects a 3-5 percent appreciation in a more typical and still healthy market. Compared to the cost of renting, this rate of appreciation would still be welcome. After a few more years, if this appreciation rate keeps up, more people may be inclined to purchase a home. But the sting of flat and decreasing prices from 2007 to 2012, shown in the chart above, will not fade quickly from memory.
— Data reports used with permission of: 1Random Lengths. Kiln Dried 2×4-8′ PET #2/#2&Btr lumber. 2RISI, Log Lines. Douglas-fir #2 Sawmill Log Average, Southern Oregon region. 3 US Dept of Commerce. 4Regional Multiple Listing Service, courtesy of Janet Johnston, Prudential Real Estate Professionals, Roseburg, OR. 5Freddie Mac. National monthly average. 6Mortgage-X, national average, most recent week. 7Zillow.com, National Median home value. (http://www.zillow.com/or/) © Copyright Rick Sohn, Umpqua Coquille LLC. Issue #7-7. For more information, questions, or permission to reprint, please e-mail [email protected]