By Rick Sohn Ph.D
Umpqua Coquille LLC
Studs and logs remain unseasonably steady and strong. Home construction is up, but needs to continue its momentum. Mortgage interest rates remain attractive. Statistics from recent years for lumber manufacturing, home construction, and housing markets are compared to 2005.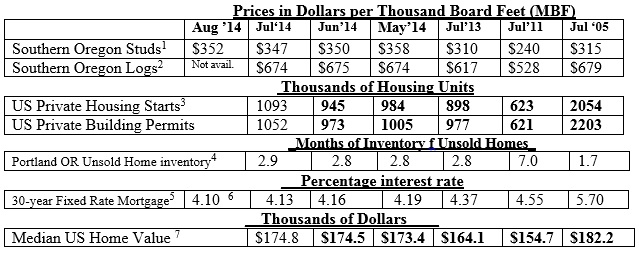 Interpretation and Looking Ahead.
In the last 3 months, studs and logs have been very steady, and well ahead of a year ago, when there was a more typical summer slump. Mortgage interest rates continue to drop steadily, now 4.10% in the latest week, for a 30-year fixed-rate mortgage. Unsold inventories remain steady and low. Zillow's home values index continues to rise fairly steadily.
Housing starts and building permits are both above one million, only for the second month this year, and barely setting the first new combined high water mark since November 2013, when starts were 1.105 and permits were 1.037 million.
Economists now say the economy grew 4.2% in the 2nd quarter, fueled by consumer spending, business investment, income-growth, and a favorable jobs report — but not home construction. Building permits above one million for three months in a row, would be a new high water mark for this recovery, and would further add to the strengthening economy.
Data reports used with permission of: (1) Random Lengths. Kiln Dried 2×4-8′ PET #2/#2&Btr lumber. 2RISI, Log Lines. Douglas-fir (#2) Sawmill Log Average, Southern Oregon region. (3) US Dept of Commerce. (4) Regional Multiple Listing Service, courtesy of Janet Johnston, Prudential Real Estate Professionals, Roseburg, OR. (5) Freddie Mac. National monthly average. (6) Mortgage-X, national average, most recent week.  (7) Zillow.com, National Median home value. (http://www.zillow.com/or/) © Copyright Rick Sohn, Umpqua Coquille LLC. Issue #7-8. For more information, questions, or permission to reprint, please e-mail [email protected]