By Rick Sohn, PHd, Umpqua Coquille LLC
Timber Industry Report September 30, 2014
Log and lumber prices remain unseasonably strong. Family owned mills, optimistic about demand, are making over $100 million in machinery and electronics investments in the near future. Yet, regional Federal forests are drowning in wood, with nowhere for it to go, but up in smoke. It's time to demand rational behavior from our elected officials. Statistics from recent years, of lumber manufacturing, home construction, and housing markets, are compared to 2005.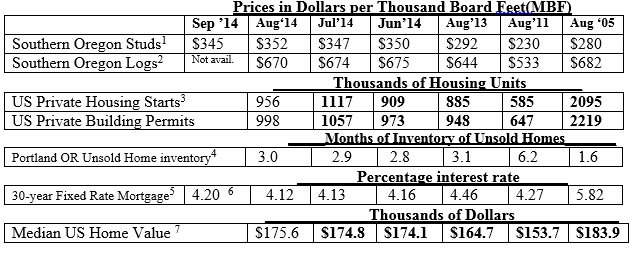 Interpretation and Looking Ahead.
Stud lumber prices remain strong, the highest summer prices since 2005. Furthermore the price for studs is less volatile for the first 9 months of the year, than any year since at least 2005. The demand for logs has pushed summer log prices to the highest levels since 2005 for a summer period.
Homebuilding starts and permits have pulled back below one million again, but corrections will likely push building permits over 1 million by next month. The Portland unsold home inventory, while creeping up, is still in a favorable zone, at 3.0. Median home prices continue their upward trend, nationally. Mortgage rates, which continue to fall slowly month to month, show signs of rising somewhat, in the latest weekly report, up to 4.20%. However, many believe that mortgage rates will stay in the low range for as long as a couple more years.
One very bright spot: several Southern Oregon mill owners are planning a total of well over $100 million of upgrades and improvements in manufacturing production machinery and electronics, within the next year or so. These improvements allow family-owned mills to stay on the cutting edge of technology and competitiveness. The Great Recession put most upgrades on hold during 5 years of very low prices and demand. Clearly these investments speak volumes about optimism for the future.
With the improved manufacturing facilities, and the expectation of increased demand, there is the unresolved question. "Where the logs will come from when demand picks up?"
Ironically, these most productive mills are located in an area where over 50% of the forest land is owned by the Federal Government, both U.S. Forest Service and Bureau of Land Management lands. Sustainable, scientifically-based ecosystem management of these lands could supplement the supply of logs from private lands, as well as provide payments to counties, and family-wage jobs in the woods. These practices would relieve Federal forests of overcrowded and over-mature stands, which tragically burn up in larger and larger, and more and more expensive wildfires.
The political desires of some would draw unnecessary lines in the sand. One such arbitrary policy proposal would not allow harvest of in coastal Pacific Northwest forest of individual live, standing, trees over 150 years of age. This would eventually spell the end of federal forest harvest, but not the end of forest management headaches. As long as federal forest management is in legal and political gridlock, and as long as politicians do not seek a viable solution, Oregon mills will continue to look elsewhere to supply their mills. The region is drowning in wood with nowhere for it to go, but up in smoke, literally, taking homes and wildlife with it. It's time for us to speak to our elected Oregon Federal officials and demand viable, sustainable solutions.
Data reports used with permission of: 1 Random Lengths. Kiln Dried 2×4-8′ PET #2/#2&Btr lumber. 2RISI, Log Lines. Douglas-fir #2 Sawmill Log Average, Southern Oregon region. 3 US Dept of Commerce. 4Regional Multiple Listing Service, courtesy of Janet Johnston, Prudential Real Estate Professionals, Roseburg, OR. 5Freddie Mac. National monthly average. 6Mortgage-X, national average, most recent week. 7Zillow.com, National Median home value. (http://www.zillow.com/or/) © Copyright Rick Sohn, Umpqua Coquille LLC. Issue #7-9. For more information, questions, or permission to reprint, please e-mail [email protected]