By Rick Sohn Ph.D
Umpqua Coquille LLC
Timber Industry Report November 26, 2014
Log prices may have set a new record!!! Lumber prices remain strong. Mortgage interest rates are near 4 percent again, and homebuilding is still above the one million mark. More recent statistics of lumber manufacturing, home construction, and housing markets, are compared to 2005.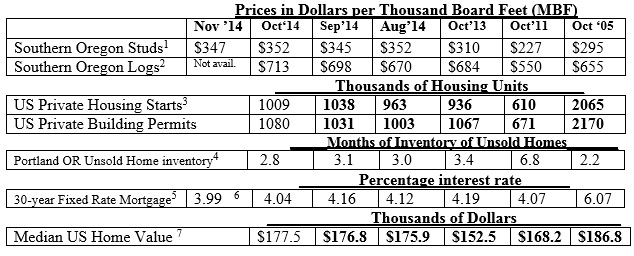 Interpretation and Looking Ahead.
Stud prices have fluctuated and are down slightly, but remain quite strong at $347, above $300 all year.
Log prices have broken another ceiling!! – over $700 in October, for maybe the first time, at $713. This may be an all time high. More next month. For comparison, the October 2009 log price was only $410.
Housing Starts and Permits are finding a groove above the one million each. Mortgage interest rates may have reached a floor, very close to 4%. But this is a LOW floor. These attractive interest rates are attracting buyers and sales are closing at a brisker rate. Realtors are pleased, and the closings for October are the strongest since 2005-2006 around Oregon, according to RMLS.
Median Home Values are continuing their steady comeback, finally within $10,000 of 2005 levels. The October, 2015 value is $15,000 above October of 2013.
The strength of markets is a nice Christmas present for the wood products communities and for those in jobs related to housing, although there is a long way to go. Logs are still hauled way too far to the mills. Reliable, sustainable Federal lands sources of wood are needed, as a supplement to private, State and Tribal wood supplies……when and if the Federal lands best management practices, regulations, and court rulings can get on the same page. (That will be the day.)
Data reports used with permission of: 1Random Lengths. Kiln Dried 2×4-8′ PET #2/#2&Btr lumber. 2RISI, Log Lines. Douglas-fir #2 Sawmill Log Average, Southern Oregon region. 3 US Dept of Commerce. 4Regional Multiple Listing Service, courtesy of Janet Johnston, Prudential Real Estate Professionals, Roseburg, OR. 5Freddie Mac. National monthly average. 6Mortgage-X, national average, most recent week. 7Zillow.com, National Median home value. (http://www.zillow.com/or/) © Copyright Rick Sohn, Umpqua Coquille LLC. Issue #7-11. For more information, questions, or permission to reprint, please e-mail [email protected]