By Rick Sohn Ph.D
Umpqua Coquille LLC
2015 looks promising. 30-year mortgage rates are again below 4%, unsold inventories are down, home prices are up steadily, and construction remains above 1 million. Trends of lumber, home construction, and housing markets, are compared to 2005.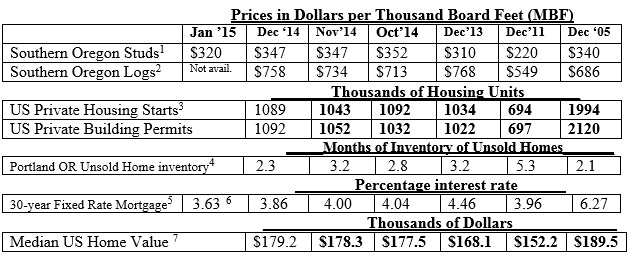 Interpretation and Looking Ahead.
Stud prices gave up some significant ground in January, dropping to $320, lower than any third- week-of-the-month price in 2013. At the same time, log prices reached $758, a December price not seen in the last 10 years — except last December's $768. A steady log diet at the current price is steep for manufacturers, well over double the stud price. Increased manufacturing output and competition may be an issue.
It seemed hard to imagine we would ever again see the sub 4% mortgage interest rates of November 2011 to May 2013, prompted by quantitative easing. But rates have fallen to a monthly rate of 3.86 and the recent weekly rate of 3.63%. Will it go lower?
We have gotten so jaded to lousy housing starts/building permits numbers, that another month above 1 million starts is good news! Indeed, with where we have been it IS good news. Housing Starts are now over 1 million for 5 of the last 6 months, and Building Permits, all of the last 6 months. Short term, this winter, with the bad weather in the East, there could be a sub-million dip next month. This will not help product prices either, perhaps not until the Spring. See chart below, for history of Housing Starts.
Portland unsold inventory is FINALLY down to 2.3%, a rate that was common 10 years ago, but has not been reached since May, 2006. This should encourage some reluctant sellers to list.
The Zillow median US home value continues its steady climb. With as long as this recovery has lasted, home prices have only been rising for 3 years. Zillow hit a low of $152,000 in January 2012. The climb to $179,200 has been quite steady, with 49% of the gain coming in 2014.
With a tightening unsold home inventory, favorable interest rates, steadily rising home prices, the housing sector should show further improvement in 2015 and contribute to economic recovery.
This graph shows the level of housing starts for the last 15 years. As this report has been saying, we are barely out of the hole, with a long way to go. One other feature shown, is that the rise in housing starts has been mostly a rise in multi-family starts. Multi-family housing (such as apartments or condos) only uses a fraction of the wood used in a single-family home.
Data reports used with permission of: 1Random Lengths. Recent week Kiln Dried 2×4-8′ PET #2/#2&Btr lumber. 2RISI, Log Lines. Douglas-fir #2 Sawmill Log Average, Southern Oregon region. 3 US Dept of Commerce. 4Portland, Oregon Regional Multiple Listing Service, courtesy of Janet Johnston, Prudential Real Estate Professionals, Roseburg, OR. 5Freddie Mac. National monthly average. 6Mortgage-X, National average, most recent week. 7Zillow.com, National Median home value. (http://www.zillow.com/or/) Housing Starts Chart from DA Davidson Forest Products Weekly Update Report. © Copyright Rick Sohn, Umpqua Coquille LLC. Issue #7-12. For more information, questions, or permission to reprint, please e-mail [email protected]