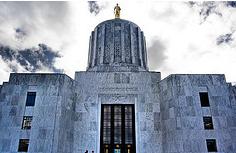 Low Carbon bill further handicaps family farms
By Oregon Family Farm Association
Farming in Oregon is becoming more difficult than other states. Oregon's net cash farm income was down by 10%. This downturn occurred while the same income was rising nationally by 24%. Oregon is sinking while other states are thriving.
When farming is down, it is small family farms who suffer the worst. Already we are witnessing a drop in total family farm acre ownership in Oregon.
Now the politicians are seeking to make Oregon among the first in the nation for a giant Low Carbon Fuel Standard, a new hidden tax on our gas. This Low Carbon Fuel Standard Tax will have the effect of raising our gas prices by 6-19 cents a gallon. Already Oregon is suffering from a national disadvantage and this disadvantage will painfully increase if we add more taxes that other states do not have to pay. The Low Carbon Fuel Standard tax lobby thinks that by hiding a tax from public view through costly mandates that farmers won't notice. We do notice and we care. What the politicians do in Salem is having irreparable effect on Oregon family farmers.