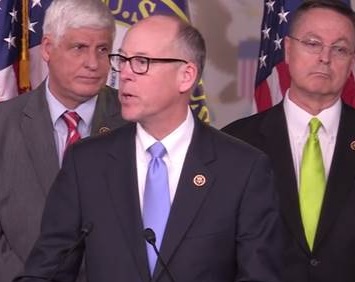 Congressman Greg Walden,
U.S. Rep. Greg Walden called for a swift resolution to the labor slowdown affecting ports up and down the West Coast. At a press conference today, Walden outlined the disastrous consequences the crisis has caused for farmers and manufacturers in Oregon, like tree fruit growers in the Columbia Gorge and potato and onion growers in Eastern Oregon.
"Enough is enough. These sides need to come together. I believe as someone who represents part of the Columbia River Basin that the lack of an agreement has caused severe economic hardship, not only around the ports, but also for our growers and our manufacturers. And this needs to change. I think those who are involved in this discussion about a contract have to understand that they have a special public obligation. In many respects, they are a public carrier, if you will. There are very few if any alternatives to shipping," Walden said.
"The pear growers in my home town of Hood River have had shipments delayed more than a month. Potato growers from across Oregon have told me that their sales are off about 15 percent. I met with onion growers out on the Idaho border. They're now shipping, if they can, at less than their production costs. And then the railways are getting backed up as well so they can't even get a railcar. Our markets are disrupted. Our people are suffering. The people involved in these negotiations have a special public interest obligation. They need to come together in something less than these nine months. Many miracles have occurred in nine months. Babies are born in nine months! You ought to get a contract in nine months. And if you can't, then we're going to do something about it. They need to get their work done."
Walden was joined by 15 other members of Congress from both sides of the aisle, including fellow Oregon Representative Kurt Schrader; Washington Representatives Dave Reichert, Jaime Herrera Beutler, Cathy McMorris Rodgers, and Dan Newhouse; and California Representative Kevin McCarthy, the House Majority Leader.
Walden also announced that he has cosponsored a Congressional resolution expressing the sense of the U.S. House that the port operators and longshoreman union should swiftly conclude their contract negotiations and that, if they do not, the President should use all tools at his authority to intervene in the matter and end the dispute. Click here to read that resolution.
Walden has worked closely with other members in the Pacific Northwest to find ways to resolve this situation. He has successfully called for the appointment of a federal mediator in the dispute, and has written to parties involved, urging them to resolve the dispute.
In a letter sent today to member of Congress, 359 Oregon companies and groups wrote that, "The impacts of the slowdown of terminal activity at the Port of Portland and other West Coast container ports are severe. It is having a devastating impact on our livelihoods and the rural communities we support. Here in Oregon, we are dependent on the foreign markets for so much of what we grow and manufacture. We take full advantage of trade agreements negotiated over the past two decades which have provided opportunities to new markets; but that has now come to a halt. Our agriculture and forest products exports and imports have been extremely beneficial to our marine terminals and to the thousands of workers engaged in logistics and transport throughout the Pacific Northwest. We are now losing that cargo and those jobs."