By Rick Sohn Ph.D
Umpqua Coquille LLC
Timber Industry Report February 27, 2015
Mortgage Interest rates are still under 4% but rising. Logs prices are dropping unseasonably, and lumber prices are lower. Yet, housing starts remain stable, and home values are still rising but gradually. Trends of lumber, home construction, and housing markets, are compared to 2006.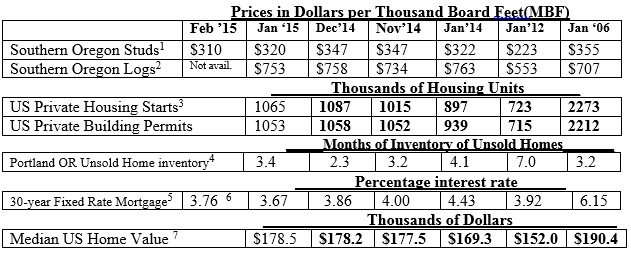 Interpretation and Looking Ahead.
Logs look respectable at $753, but word on the street is gloomy for log sellers, with prices for February predicted to be far lower than the January price, and are still falling.
Why? First, and obvious to those living in the Northwest, the unusually dry and mild winter allowed logging to take place on normal spring or even some summer dirt road systems. Logging is not restricted to rock roads. Second, log exports to China and Japan are down, putting extra logs into the Northwest market. Third, some companies are taking advantage of the weather and timing to pay down debt on major recent land purchases. Taken together, the oversupply of logs has put an excess of logs on the market. Syptomatic of this oversupply, there are a lot of log trucks on the highway, and some long lines of trucks at the mills this month. Log decks at the mills have really grown, and in Roseburg, several mills are shutting off log deliveries during the month of March, until further notice. This can be expected to push log prices even lower. Barring some unusual weather, the typical later winter spike in log prices may have already happened for this winter — in December, the same as last year.
In good news for builders, product prices gave up even more ground in February, with studs dropping to 310, a price not seen since December 2013. Random Lengths reports that unsold inventories of lumber at the mills have grown. Nationally, severe winter lowers demand. Yet, it has not caused housing starts to dip below one million. Housing starts are holding.
Median US home values continue to rise, although gradually this month. Nationally, median home values hit their lowest mark in January 2012, according to the latest statistics. Rising to $178,500 this month represents a 17% increase in 3 years, very respectable.
Tempering the good news is that we may be seeing a turning point in mortgage interest rates. The Fed has announced that increased interest rates could happen "anytime," which some analysts think will be around June. This announcement will likely affect the mortgage rates, which have started a gradual rise. While the sub-4% rates did not last long this go-around, they are still CHEAP CHEAP CHEAP. Note the 2006 rate.
Will the gradual rise in interest rates, be enough to cool the housing market? Or, will the improving jobs picture that is causing interest rates to rise and unsold home inventories to stay low, spur homebuying and homebuilding? If home values level off, more people may be afraid to buy and may choose to rent. On the other hand, the stability of homebuilding this winter is reassuring, under these conditions. A strong spring would be a welcome sign of the enduring depth and strength of the recovery in the wood products industry in the next few months.
Data reports used with permission of: 1Random Lengths. Recent week Kiln Dried 2×4-8′ PET #2/#2&Btr lumber. 2RISI, Log Lines. Douglas-fir #2 Sawmill Log Average, Southern Oregon region. 3 US Dept of Commerce. 4Portland, Oregon Regional Multiple Listing Service, courtesy of Janet Johnston, Prudential Real Estate Professionals, Roseburg, OR. 5Freddie Mac. National monthly average. 6Mortgage-X, National average, most recent week. 7Zillow.com, National Median home value. (http://www.zillow.com/or/) Housing Starts Chart from DA Davidson Forest Products Weekly Update Report. © Copyright Rick Sohn, Umpqua Coquille LLC. Issue #7-12. For more information, questions, or permission to reprint, please e-mail [email protected]