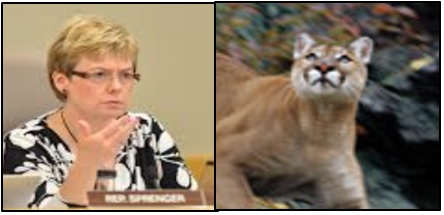 Rep. Sprenger:Cougars sightings near city schools renews call for action.
By Taxpayer Association of Oregon Foundation
State Representative Sherrie Sprenger has introduced a bill to help keep Oregon safe from the rising threat of cougar attacks. Sprenger has introduced HB 3000 which directs the Oregon Department of Fish & Wildlife to create pilot program allowing hunters to use hounds in the pursuit of cougars.
State officials estimate that Oregon abounds with about 6,000 cats within the state. This number is double than what management objectives have called for.
Cougar increases are not just a rural Oregon danger, but recent cougar sightings in the Portland Metro area has suburban families in alarm.
Last year Hillsboro Police responded to a cougar sighting in a local park, two cougars were spotted roaming the streets in Oregon City and a cougar was captured and euthanized in a NE Portland neighborhood.
More threatening was a cougar sighting in near schools where a Happy Valley Elementary School was under alert as well as a Beaverton elementary school. The bear population has risen also, as the black bear population has risen by 40 percent since the statewide restrictions.
State Representative Sherrie Sprenger stated, "I have been working to pass legislation on this issue for several years now. Each year my concern for public safety grows and I hope this is the year that we can do something that works for Oregonians, in all areas of the state."