By Rick Sohn Ph.D
Umpqua Coquille LLC
Timber Industry Report March 30, 2015
Nasty US weather and excellent local weather combined to lower log and product prices, and stall homebuilding. Other statistics suggest underlying strength, which should lead to upturns this Spring. Trends of lumber, home construction, and housing markets, are compared to 2006.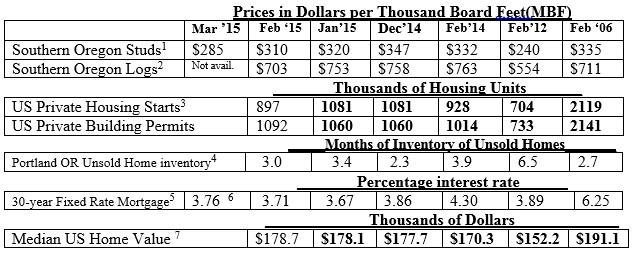 Interpretation and Looking Ahead.
The drop in log price from $753 to $703 per thousand board feet, is the largest one-month drop since at least 2005. As also reported last month, the unseasonably good weather this winter allowed logging on dirt road systems, increasing winter log supply, leading to this price drop. Actually, January rain was under one inch at the Roseburg airport and February under 2 inches, mostly coming in one day. But what also contributed to the favorable weather was the higher than average temperatures. Although both low and high temperatures were well above average, it was especially the low temperatures in February, that were unseasonably high, with little morning fog. Road surfaces dried out more quickly.
At the same time, national weather was DREAFUL. Like all that snow in the Northeast – remember Boston? Random Lengths pins the low housing starts (897,000) on the national weather picture. Indeed, the building permits look just fine at 1,092,000 (relatively speaking). No doubt this weather contributed to the drop in stud lumber prices, to their lowest level since October, 2012 ($273 per thousand board feet). The other factor which continues to influence product prices, Random Lengths reports, is the continuing strong dollar, which is attracting imports, and raising the supplies of wood products available.
The rest of the statistics, home value, mortgage rate, and unsold inventory, look just fine. So, all said, we are poised for a stronger Spring, barring unforeseen circumstances.
Data reports used with permission of: 1Random Lengths. Recent week Kiln Dried 2×4-8′ PET #2/#2&Btr lumber. 2RISI, Log Lines. Douglas-fir #2 Sawmill Log Average, Southern Oregon region. 3 US Dept of Commerce. 4Portland, Oregon Regional Multiple Listing Service, courtesy of Janet Johnston, Prudential Real Estate Professionals, Roseburg, OR. 5Freddie Mac. National monthly average. 6Mortgage-X, National average, most recent week. 7Zillow.com, National Median home value. (http://www.zillow.com/or/) © Copyright Rick Sohn, Umpqua Coquille LLC. Issue #8-3. For more information, questions, or permission to reprint, please e-mail [email protected]