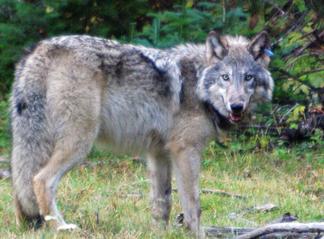 Oregon Fish and Wildlife Commission 
The Oregon Fish and Wildlife Commission  decided to direct ODFW staff to develop two options for delisting wolves from the state Endangered Species Act: one that would delist wolves in eastern Oregon (boundary Hwys 97-20-395) and one that would delist wolves statewide.
The state's Wolf Plan calls for initiating a process to delist wolves from the state Endangered Species Act when Oregon reaches the conservation objective of four breeding pairs for three consecutive years in eastern Oregon. This objective was met in early 2015.
The Commission heard ODFW staff's Biological Status Review of wolves and also heard public testimony from 38 people.
"This is a success story," said Russ Morgan, ODFW Wolf Coordinator in his presentation of the Biological Status Review. "Not very many years ago, we had no known wolves in Oregon. Now we not only have wolves, but the population is healthy and growing."
"I am very confident that we are going to have a healthy, sustainable population of wolves in Oregon," said Commissioner Holly Akenson. "We have the protections and the desire to maintain a wolf population in Oregon."
Much of the public testimony was against a delisting, and Commissioners noted that the option of no action also remained on the table.
Noting other staff job tasks, Commission Chair Finley informed the public that this two-option approach would require a substantial investment in time and that a final proposal may not be available until the fall.
The Commission also adopted staff proposals setting the 2015 ocean salmon and Pacific halibut seasons for Oregon's territorial waters from shore to three miles out. The seasons in ocean waters beyond three miles already have been set by the Pacific Management Council, and the Commission set similar regulations for state waters. In addition, recreational and commercial troll fall Chinook salmon target fisheries in state waters.
Due to another year of strong returns of Sacramento and Klamath fall Chinook salmon stocks, ocean Chinook seasons south of Cape Falcon are similar to the relatively robust seasons of recent years, however, coho opportunities are reduced over 2014 due to lower abundance and available impacts. The 2015 ocean salmon seasons are listed on the ODFW Website at Oregon Ocean Sport Salmon Seasons.
For Pacific halibut, the total 2015 catch limit will be 970,000 pounds, one percent more than in 2014. There are a few changes to the 2015 regulations that affect the sport fisheries:
Harvest allocations were reduced in the Columbia River Subarea (north of Cape Falcon) and harvest allocation in the Southern Oregon Subarea was increased to better match recent effort and catches.
In the Columbia River Subarea the all-depth fishery is combined into a single season beginning in May and running four days a week through September, or until the harvest allocation is attained. Also in this area, the nearshore fishery allocation is reduced to 500 pounds.
New for 2015, in the area north of Humbug Mt., retention of other flatfish species (such as flounder, sole and sanddabs) when Pacific Halibut are on board is allowed.
The adopted 2015 Pacific halibut seasons are posted on the ODFW Website at Sport Halibut Seasons Map.
Also, the Commission appointed three new members to the Fish Screening Task Force –Barry DelCurto of Halfway to represent agriculture and Nathaniel Olken of Portland and Theodore Taylor of La Grande to represent fishing/fish conservation. The seven-person task force is appointed by the Commission to advise ODFW staff on fish screening program development, funding and project prioritization.
The Commission is the policy-making body for fish and wildlife issues in the state. It usually meets monthly. The next meeting is scheduled for June 5 in Salem.