By Rick Sohn, PhD
Umqua Coquille LLC
Housing starts have finally shot up 20% while unsold home inventory dropped. Mortgage interest rates remain favorable, and home value is increasing. Yet, US softwood market is being harmed by Canada. Trends of lumber, home construction, and housing markets, are compared to 2006.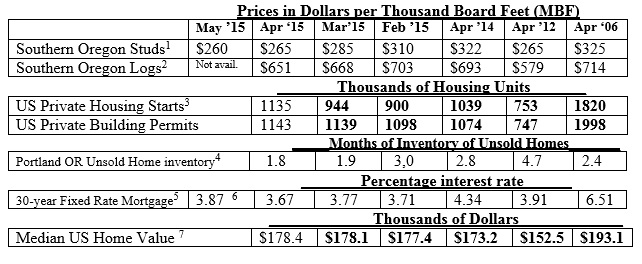 Interpretation and Looking Ahead.
Housing starts shot up 20% in May, to 1,135,000 units, the highest level since 2007. This is consistent with the unsold inventory of homes, which has gotten very tight in Portland, and has dropped to 1.8 months, the lowest level since 2005. Homebuilders are able to take advantage of the low cost of building materials. Studs have decreased to $260. Mortgage interest rates also favor the homebuilder, and have fallen to 3.67% in April, although they have crept up to 3.87 in the recent week. Finally, the average home price continues to rise steadily, now $178,400 nationally, according to Zillow.
From the standpoint of the producers, things are not so rosy. Log prices which have already dropped $102 since January, are already at a typical summer price of $651. The early price drop this year, is symptomatic of the dry winter and spring months, which permitted more logging in winter months than usual. But the price is still high for the mills, relative to the log price. The lumber price, at 41% of the log price in April, is the lowest it has been for the last 3 years, except for December 2013.
So, why, with the pace of homebuilding picking up, are lumber prices so low? The answer seems to rest at least in part, with the Canadian dumping of softwood lumber into the United States market. According to Random Lengths, a 5% duty was imposed on lumber exports to the United States for April and May, and that duty will increase to 10% in June, due to the drop in domestic prices for lumber.
One technical note. The Housing Starts and Building Permit statistics were revised as they always are in May, going back to January 2013, so numbers vary from previous reports.
Lets hope the summer brings stronger lumber prices, a stable log price, and fewer fires than predicted.
Data reports used with permission of: 1Random Lengths. Recent week Kiln Dried 2×4-8′ PET #2/#2&Btr lumber. 2RISI, Log Lines. Douglas-fir #2 Sawmill Log Average, Southern Oregon region. 3 US Dept of Commerce. 4Portland, Oregon Regional Multiple Listing Service, courtesy of Janet Johnston, Prudential Real Estate Professionals, Roseburg, OR. 5Freddie Mac. National monthly average. 6 Federal Reserve Bank of St Louis Economic Research US 30-year Fixed Rate Mortgage, National Average, most recent week. 7Zillow.com, National Median home value. (http://www.zillow.com/or/) © Copyright Rick Sohn, Umpqua Coquille LLC. Issue #8-5. For more information, questions, or permission to reprint, please e-mail [email protected]