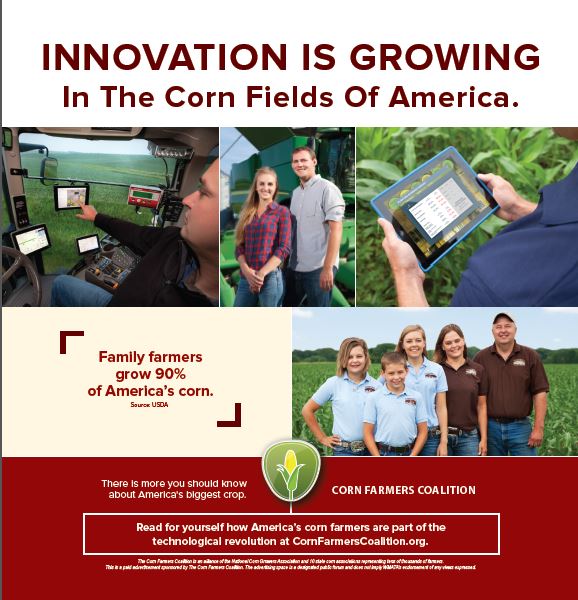 By Cindy
National Corn Growers Association
American corn farmers do not often see how their lives might be impacted by high profile, First Amendment debates in the media. While we each value our Constitutional rights and deeply cherish liberty, our messages about growing food and stewarding the land generally do not stir up mainstream debate to a degree that lands us on the national stage.
Today, we did.
The Corn Farmers Coalition campaign, a six-year long tradition, normally places ads featuring facts about farmers presented by actual farm families in the DC Metro during the summer to help educate legislators and other Dc thought leaders. Sharing the unique stories of the men and women who grow corn while highlighting their constantly-improving practices and technology helps those in the capital understand what happens across the nation's countryside and why it matters.
Today, those ads have not gone up on schedule.
Media outlets have spotlighted recent events that transpired between Pamela Gellar's American Freedom Defense Initiative and the DC Metro over the ability of one group to purchase ad space from the latter. DC Metro, eventually, chose to resolve the issue by banning new issue-oriented advertising in the transit system for the remainder of the year. (Read more here)
America's corn farmers know that, while CFC brings new information to DC every year, the campaign's concept does not waiver or qualify as "new." While the messages may change slightly, the intent remains the same.
They also know that the ads provide information without urging for any particular issue-oriented action. Showing images of real Americans in their fields with their families helps farmers share a little perspective on American agriculture with a town often farm removed from its rural roots. Featuring US Department of Agriculture data and facts, supported by reputable research, educates Washingtonians on the ever-evolving, ever-improving achievements on America's farms.
Yet, DC Metro has stalled progress on the campaign's scheduled June 1 launch due to a conflict in which we played no role. In the headline-grabbing dispute between AFDI and DC Metro, America's corn farmers pay the price for highly politicized positions. Every year, real farmers invest real dollars to send the farm to Washington. Without a reasonable resolution of this conflict, America's farmers will be thrown under the train rather than on it.