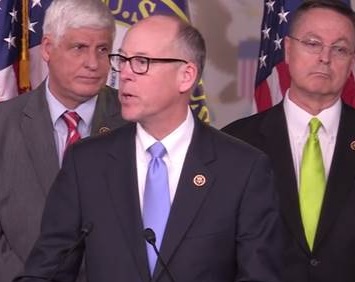 By Congressman Greg Walden,
The U.S. House of Representatives has passed—on a bipartisan vote—a plan offered by Rep. Greg Walden (R-Ore.) and Rep. Doug LaMalfa (R-Calif.) to help protect water users on the Klamath Project in Oregon and California.
The proposal would confer applicant status on these users, ensuring that they are included in Endangered Species Act consultations that could affect operations of the water project they rely upon. While the Bureau has—in its own words—treated the users "in a manner similar to applicants" since the 1990s, it has not granted them the protections and input the full applicant status would provide.
"There is a long history with water issues in the Klamath Basin and there is much work to be done. Frankly, a basin-wide, long-term solution is what is most needed. While we are working towards a long-term solution to the overall Klamath water issues, these issues remain," Walden said during debate on the amendment.
"In the interim, it is critical that we pass this amendment to formalize the role of the Klamath Project irrigators by giving them applicant status for ESA consultations. The Klamath Project contractors have existing contracts with the Bureau of Reclamation and they are directly affected by Reclamation's consultations with US Fish and Wildlife Service and National Marine Fisheries Service. Passing this amendment would only formalize a practice that has already been occurring and ensure that the Klamath Project contractors can continue this process in the future," Walden said.
The proposal was passed on a bipartisan vote as an amendment to the Western Water and American Food Security Act, which was passed by the House today to offer relief to the drought-stricken rural West. The bill now goes on to the U.S. Senate.