By Rick Sohn, PhD
Umqua Coquille LLC
Despite low mortgage rates and low unsold home inventories, the weak stud market, the expiration of the U.S./Canadian softwood trade agreement, and the low value of the Canadian dollar, do not bode well for the rest of the Fall. Trends of lumber, home construction, and housing markets, are compared to 2006.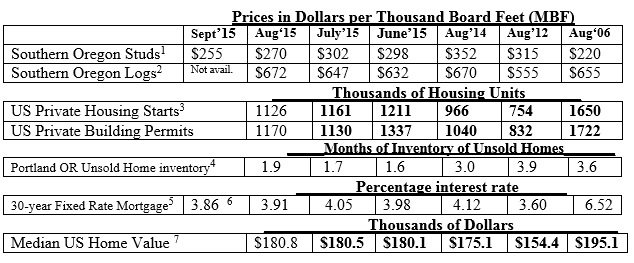 Interpretation and Looking Ahead.
Studs are not looking good. They are approaching the mid 200's. For context, the stud price in August, 2006 dropped to $220 from $275 in June, 2006. Significant recovery into the $300's did not occur for 6 more years – until mid-2012. Fall 2015's stud price drop is the first drop to the mid-$200's since mid-2012.
Despite lowering mortgage rates (3.91 last month), and low unsold inventories (up slightly to 1.9 months in Portland last month), home prices nationally started to slow down in May 2014.
Contrary to optimistic economist views conveyed in this column over the summer, this fall is not keeping up with longer term expectations. There are several factors. Many are beyond what is normally reported here. The exchange rate between Canada and the US makes it very desirable for Canadians to sell lumber here. One Canadian dollar is worth $1.33 in US dollars today. It has been since early 2013 that the American and Canadian dollars were at a similar value.
Other important factors include the lackluster housing starts (see the chart), the weakened export market with China, and looming large: the expiration of the Softwood lumber agreement between the U.S. and Canada in October 2015. Renewal is not expected for a couple of years. Some dumping of softwood from Canada into the US can be expected, particularly with the exchange rate being so favorable when Canadians sell to the U.S. This will hurt stud prices, and could be reflected to some degree in log prices.
The fires and fire season did pump up log prices during August to $672, but an adjustment downward can be expected this fall. What the winter brings in the way of prices, will depend largely on the weather.
The negative results reported here were unexpected just a few months ago. Yet, they match a developing pessimism that could continue for the next couple of years.
Data reports used with permission of: 1Random Lengths. Recent week Kiln Dried 2×4-8′ PET #2/#2&Btr lumber. 2RISI, Log Lines. Douglas-fir #2 Sawmill Log Average, Southern Oregon region. 3 US Dept of Commerce. 4Portland, Oregon Regional Multiple Listing Service, courtesy of Janet Johnston, Prudential Real Estate Professionals, Roseburg, OR. 5Freddie Mac. National monthly average. 6 Federal Reserve Bank of St Louis Economic Research, National Average, most recent week. 7Zillow.com, National Median home value. (http://www.zillow.com/or/) © Copyright Rick Sohn, Umpqua Coquille LLC. Issue #8-9. For more information, questions, or permission to reprint, please e-mail [email protected].