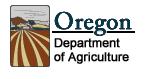 By Oregon Department of Agriculture,
The Oregon Department of Agriculture has received a temporary restraining order to immediately stop Applebee Aviation, Inc. of Banks, Oregon from engaging in commercial pesticide activities. The order, issued by Washington County Circuit Court, was sought by ODA after it discovered Applebee Aviation had illegally conducted pesticide applications while its commercial pesticide operator's license was suspended, an additional violation of Oregon's Pesticide Control Act. Meanwhile, ODA continues its investigation of the most recent violative activity and expects to take additional regulatory action against the company.
On September 25, 2015, ODA issued an immediate license suspension and a $1,100 civil penalty and to Applebee Aviation for performing aerial herbicide application activities in a faulty, careless, or negligent manner. Applebee Aviation was informed that it was prohibited by law from engaging in pesticide application activities until such time as its license was reinstated. Subsequently on October 8, 2015, ODA became aware that Applebee Aviation performed an aerial application of pesticides on Bureau of Land Management lands north of Christmas Valley in Lake County on or around October 1 and 2. ODA also learned that Applebee Aviation engaged in pesticide application activities in Astoria in Clatsop County on September 26. The temporary restraining order was granted because Applebee Aviation knowingly and willfully ignored ODA's express instructions and engaged in pesticide application activities even though its license was suspended.
ODA's original regulatory action followed the completion of a pesticide use investigation stemming from a complaint of exposure received by an Applebee Aviation worker present during aerial pesticide application activity on and around forestlands in Douglas County in April 2015. ODA coordinated with Oregon OSHA, which conducted its own investigation. ODA found that Applebee Aviation had not provided workers with the required personal protection equipment, water or other decontamination materials for use in the event of exposure, or training on how to minimize hazards to safety and health while working around pesticides. All are violations of the pesticide label. Oregon OSHA, which is the lead agency on worker protection matters, issued fines totaling $8,850 for violations committed by Applebee Aviation.