By Rick Sohn, PhD
Umqua Coquille LLC
Last month's uncertainty for producers continues, but for homeowners and homebuilders, it could be a nice opportunity. Homebuilding is up, interest rates are down, and products are cheap. The weather is uncertain. Recent trends of lumber, home construction, and housing markets, are compared to 2006.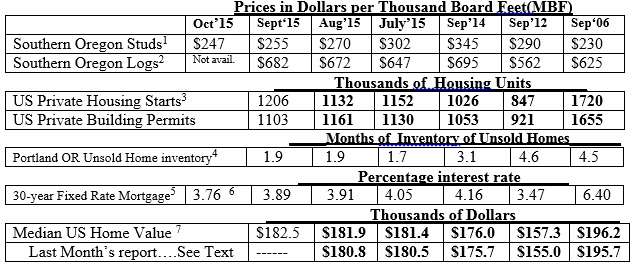 Interpretation and Looking Ahead.
Last month was a dismal report. This month will be different, in part.
On the ONE hand, stud prices are weak, especially in relation to logs. For September, the studs are now only 37% of logs. Since 2005, this has happened only 10% of the time, mostly in 2006 and 2008 as multi-month events of low stud prices. This is not good for mills. Low product prices could drag log prices down also, if this turns into a multi-month weakness in product prices, as happened in the prior turndowns.
While product prices are stabilizing week to week and may improve next month, a high volume of Canadian imported wood crossing the border is possible, without a softwood lumber trade agreement between Canada and the United States. The Loonie (Canadian dollar) is currently worth $1.32 of American dollars. While there has been fluctuation since Sept 30, it is little improved from the $1.33 reported last month. Canadians make a lot of money in Loonies when they sell to Americans at this time. The log and manufacturing markets are quite uncertain short term. As I said last month, the largest determining overlay factor will be the winter weather.
On the OTHER hand, the statistics reported here bode potentially WELL for the home buyer and the home builder. Products are cheaper. Mortgage interest rates are VERY low (below 4% for the month) and trending down, as indicated by the latest weekly number of 3.76. Unsold inventories of homes remain low.
Zillow's home values index is surprisingly strong up. Zillow's annual revision came out this month and now paints a more positive picture of increasing home value in recent months, than reported in the middle of the summer. A comparison of Zillow values that came out in October vs. September is shown in the chart. While this kind of revision may give readers pause, it is the tradeoff for up-to-date reports. The same kinds of revisions are common in the housing starts and building permits reports. In the chart, revisions are shown in bold.
Housing starts, at an annualized rate of 1,206,000, are at the second highest monthly number since 2007. This is still a historically weak number, and there are still many negative signs for the log and lumber markets near term. Yet, some improvement is occurring, and an uptick in homebuilding in the late winter and spring could lift a lot of boats, longer term, even if this winter is weak. Steadily rising home values, raises the confidence of potential homeowners. Homebuilding led the country out of many past recessions.
Data reports used with permission of: 1Random Lengths. Recent week Kiln Dried 2×4-8′ PET #2/#2&Btr lumber. 2RISI, Log Lines. Douglas-fir #2 Sawmill Log Average, Southern Oregon region. 3 US Dept of Commerce. 4Portland, Oregon Regional Multiple Listing Service, courtesy of Janet Johnston, Prudential Real Estate Professionals, Roseburg, OR. 5Freddie Mac. National monthly average. 6 Federal Reserve Bank of St Louis Economic Research, National Average, most recent week. 7Zillow.com, National Median home value. (http://www.zillow.com/or/) © Copyright Rick Sohn, Umpqua Coquille LLC. Issue #8-10. For more information, questions, or permission to reprint, please e-mail [email protected].